Winners of new initiative launched by Arab Cinema Center (ACC) to be announced during Cannes.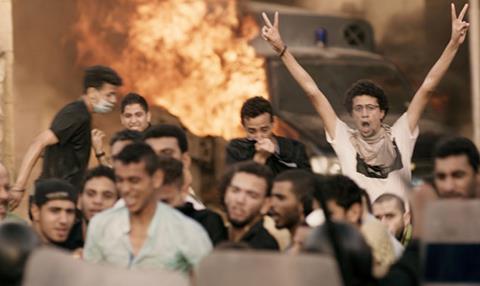 SCROLL DOWN FOR THE FULL LINE-UP
Mohamed Diab's Egyptian Revolution drama Clash (pictured) which opened Cannes' Un Certain Regard last year, Withered Green and Hedi lead the nominations in the inaugural edition of new Critics' Awards aimed at Arab cinema.
Clash and Withered Green, which premiered at Locarno last summer and went on to win best director for Egyptian film-maker Mohammed Hammad at Dubai International Film Festival in December, picked up three nominations each.
Tunisian director Mohamed Ben Attia's Hedi, the metaphorical tale of a young man who rebels against a predestined path set by his family, has been nominated in two categories, including best actor for star Majd Mastoura, who was feted for his performance at the Berlinale in 2016.
The winners will be announced during Cannes on Sunday May 21.
The initiative overseen by Cairo-based promotional body the Arab Cinema Centre (ACC) involves 24 jury members from 15 countries. It is the first time such a pan-Arab critics award of this stature has been attempted.
The jury also originally included late critics Samir Farid, from Egypt, and Palestine's Bashar Ibrahim, who both passed away this year, having played an integral role in the creation of the awards and selection process.
Respected Egyptian critic and film journalist Ahmed Shawky has been appointed manager of the jury and awards.
"The most prominent feature of the initiative is the clear interaction between the Arab and foreign critics involved, and the most important thing to be noted from the list of nominees is this wide diversity of choices," said Shawky.
"Nine films have reached the final competition from Egypt, Tunisia, Lebanon, Saudi Arabia and Jordan, reflecting the state of affluence experienced by Arab cinema during 2016 and which continued during the current year."
Under the stipulations of the new awards only Arab-language features which premiered at international film festivals outside the Arab world in 2016 were eligible for consideration.
Competing films must involve at least one production company hailing from the Arab world.
FULL LIST OF NOMINEES
BEST ACTOR
Majd Mastoura

for

Hedi

(Tunisia)

Ahmed Taher

for

Blessed Benefit

(Jordan)

Hisham Fageeh

for

Barakah

Meets Barakah

(Saudi Arabia)
BEST ACTRESS
Sarah Hannachi

for

Foreign

Body

(Tunisia)

Heba Ali

for

Withered Green

(Egypt)

Julia

Kassar

for

Rabih

(Lebanon)
BEST SCREENPLAY
Clash

(Egypt)

Withered

Green

The Last of Us

(Tunisia, Qatar, UAE, Lebanon)
BEST DIRECTOR
Mohammad Hammad

for Withered Green

Mohamed Diab

for Clash

Ala Eddine

Slim

for The Last of Us
BEST FILM
Clash

Hedi

In the Last Days of the City

(Egypt, UAE)
PARTICIPATING CRITICS
Ibrahim Al-Arees

, Lebanon

Ahmed Shawky

, Egypt

Osama

Abd El-Fatah

, Egypt

Olivier Barlet

, France

Bashar Ibrahim

, Palestine, UAE

Deborah Young

, USA

Dragan Rubesa

, Croatia

Jay Weissberg

, USA

Hussam Assi

, Palestine, UK

Hamadi Keroum

, Morocco

Khalil Demmon

, Morocco

Ziad Khouzaie

, Iraq, UK

Sydney Levine

, USA

Tarek El-Shinnawi,

Egypt

Abdul Sattar Naji

, Kuwait

Erfan Rashid

, Iraq, Italy

Ola Al-Sheikh

, Palestine, UAE

Finn Halligan,

UK

Kais Kassem

,

Iraq, Sweden

Mohammed Bougalleb

, Tunisia

Mohammed Rouda

,

Lebanon

Nabil Hadji

, Algeria

Nadim Jarjoura

, Lebanon

Hauvick Habéchian

, Lebanon

Houda Ibrahim,

Lebanon, France