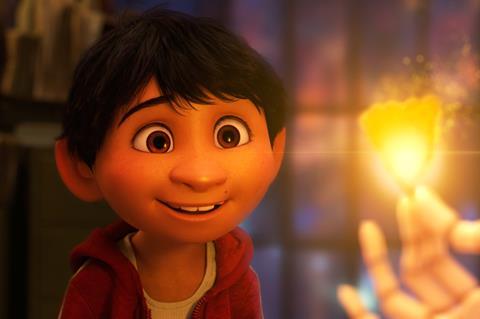 Disney-Pixar's Coco has crossed $400m worldwide, Disney executives confirmed on Wednesday (December 13).
The animation, which earlier this week earned Golden Globe nods for animatoin and original song, reached the threshold on December 12 and stands at $401.6m globally, of which $263m comes from international and the $138.6m balance from North America.
Coco has generated $133.1m in China, where Pixar films traditionally have not performed strongly, and a remarkable $56.8m in Mexico to rank as the biggest release of all time in that territory.
Elsewhere it stands at $11.5m in France, $9.1m in Spain, $8.1m in Russia, $4m in Germany, and $3.6m in Indonesia.
There are still many major markets to come, starting with Australia and Italy on December 26 and 28, respectively, Brazil on January 4, South Korea on January 11, the UK on January 19, and Japan on March 16.
Awards recognition thus far includes honours from the National Board Of Review and New York Film Critics Circle.
Gael Garcia Bernal and Anthony Gonzalez lead the voice cast on the story of a musical boy who finds himself in the Land of the Dead as he attempts to learn why there is a ban on music in his family. Lee Unkrich directed and Adrian Molina served as co-director.