Beijing-based LeEco unveiled on Friday what it claimed to be the first streaming service targeted at Generation Z.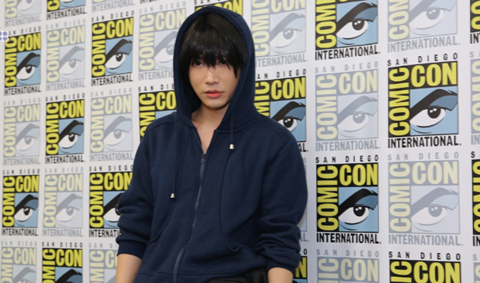 The announcement came during a panel called Z-Generation: Transcend Boundaries, in which Le Vision Pictures vice-president Peiyao Liu also illustrated the company's keen awareness of China's superfan phenomenon.
The Letv Membership For Z-Generation launch means LeEco now offers two tiers of service to entice more users to its mobile devices: a broader portfolio of content and a roster targeted at youngsters born between 1995 and 2009.
Users can access the content one of two ways: either via a bundle that comes with LeEco mobile phones or by going online.
Panel moderator Joe Wong, a Chinese comedian and talk show host, opened the session with a 3D VR conversation with Zhang Qiling, a character from novel The Lost Tomb.
The character stepped out from a large screen and was greeted by Huang Shan (pictured), panel participant and one of the most famous cosplayers in China who wore the costume of Zhang Qiling.
LeEco subsidiary Le Vision Pictures has adapted The Lost Tomb into The Time Raiders and will release the film on August 5 in a move that is expected to leverage Shan's many online followers in anticipation of the film.
While Shan has no role in the film the iconic cosplayer, famous for dressing up as celebrated characters, told the audience that the film was a very important step for fans "because it's a great way for us to promote the Chinese comic culture into the whole world."
His endorsement alone is expected to be a big boon to the LeEco world as it parlays content across its various platforms. A spokesperson for the company told Screendaily after the session that while there was no formal deal in place with Shan, talks were ongoing on various projects.
"All the different cultures around the world are getting integrated," said Liu. "People in China born in the 1990s loved Iron Man, Spider-Man and Batman. However we see a change. For the people born after 2000 they're becoming more fans of domestic culture including The Time Raiders."
Liu added that there appeared to be growing global interested in Chinese internet series Go Princess Go and as an adjunct to that he referenced the deal singed late last year with Dark Horse Entertainment to adapt six Chinese graphic novels.
For his part Shan said: "The virtual world is influencing every aspect of our lives. I am a cosplayer and by doing this I am showcasing myself, my personality and our cravings. That's how we can bring the virtual world into reality.
He drew sympathetic groans from the audience when he said: "I'm a huge fan of the movie The Lost Tomb and I brought all the figures with me but they got [confiscated] at the airport."
Lionsgate COO Brian Goldsmith spoke of global synergies when he picked up on an earlier mention by Wong of Le Vision and Original Force's L.O.R.D. [Legend Of Ravaging Dynasties], which Lionsgate will distribute in the US after the Chinese launch in a couple of months.
"What's becoming very clear as we look at movies and TV shows that work not just in the US but China and around the world is that young adults who grow up with smartphones in their hands and are used to experiencing entertainment whenever they want –with almost unlimited supply and [who have] a facility for technology including accessing content –have in many ways broken down a lot of geographical boundaries that separated us."