Warner Bros to release sci-fi mash-up adaptation on March 30, 2018.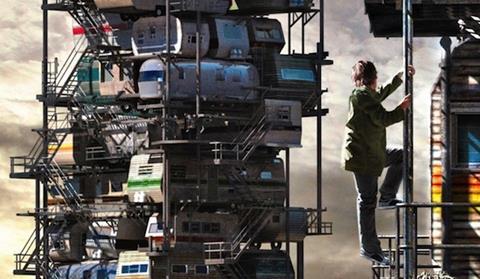 Steven Spielberg and author Ernest Cline kicked off the Warner Bros panel on Saturday morning with the first trailer from 2018 release Ready Player One.
Spielberg's adaptation of Cline's bestselling pop culture mash-up about a video game ace who takes on an evil corporation in the race to control the OASIS virtual reality platform is due out on March 30 2018.
Footage showed star Tye Sheridan as Wade Watts (known as Parzival in OASIS) slotting on his goggles and haptic gloves and zipping into a world filled with recognisable elements from The Iron Giant to Tron to a DeLorean – of particular significance to Spielberg who famously featured the car in the Back To The Future series.
"When I read Ernie's book it was like the most amazing flash-forward and flashback at the same time," Spielberg said, adding: "I read the book and said they're going to need a younger director.

"It's more than you can ever imagine – Ernie's imagination – in taking all of us where you took us. I had no idea how I was going to get any of you there, but he was the guide."
Sheridan, who stars as the film's hero Wade Watts took to the stage alongside TJ Miller, Ben Mendelsohn, Olivia Cooke, who plays Wade's love interest Samantha / Art3mis, and screenwriter Zak Penn.
"Like everybody in this room I grew up watching Steven's movies and studying them," Cline said. "They're woven into my DNA."
Cline said what he has seen of the film "is better" than what he expected. "This movie is going to expose so many people to the concept of virtual reality and change the space with which virtual reality is adopted by civilisation."
"You can do anything you can imagine in this [virtual] world," Spielberg said. "That in the book is what made me want to jump into the movie."
Cline owns and drives a DeLorean and said he brought his glove box to his first meeting with Spielberg and asked the director to sign it.