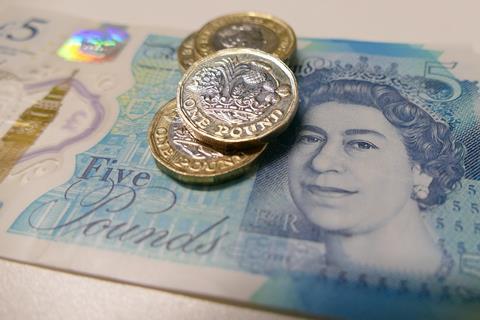 Freelancers working on UK film and television productions are being paid as little as £350 per week after being forced to stop work due to Covid-induced suspensions, it has emerged.
Staff on productions that include independent feature films and scripted TV shows have been paid less than the London Living Wage (£10.85 an hour, or £407 for a 37.5-hour working week) amid production hiatuses.
UK trade union Bectu confirmed to Screen that while studios including Warner Bros and Netflix have paid crew in full during Covid-induced suspensions, "many other" productions have used the £350 figure.
Bectu also said that some productions are refusing to pay at all during suspensions, but insisting that crew remain under contract and cannot work other jobs.
Furthermore, one 'Covid rider' attached to a contract seen by Screen's sister publication Broadcast, stipulated that contracts can be terminated "with immediate effect" if a production is affected by the pandemic.
The document spells out that if a crew member is personally affected by the virus then a maximum payment of £700 across two weeks is due and if the absence lasts longer than a fortnight, they can be considered "absent due to sickness" and have their contract terminated.
"During the last 12 months a large proportion [of productions] have suspended part of the crew or the entire production for 2 or 3 weeks. Because they are testing all the time, productions are hitting this problem on a regular basis," said Bectu national secretary Spencer Macdonald.
He warned independent productions against "penalising" workers for Covid-related suspensions, during which time they will be highly unlikely to find work elsewhere.
Macdonald called on producers to pay staff a full day-rate during any suspension period. If full pay is "absolutely not possible", companies should pay a 50% day rate or the London Living Wage, whichever is higher.
"Bectu's position on suspensions and hiatuses is clear," he said.
Concerns
The union raised similar concerns last summer after uncovering evidence of freelancers being forced to sign contracts that forbade them from seeking alternative work for up to three weeks if a show was cancelled.
European trade body International Federation of Cinematographers (Imago), which aims to "promote living and working conditions of cinematographers all around the world", highlighted the practice in an open letter to Bectu and fellow trade union Pact earlier this week.
"The health and wellbeing of staff on any cinematographic endeavour is our concern and this situation worries us greatly," added the body's interim president, legal adviser and the chair of its Working Conditions Committee.
"The UK production sector should improve working conditions and not use Covid as an excuse."
The body urged Bectu and Pact to "engage immediately so that a clear path forward can be found and workers aren't made to suffer unnecessarily".
Pact deputy chief executive Max Rumney said the issue is too complex for a one-size-fits-all approach.
"There are a number of reasons why a production would have to postpone or shutdown and of course these productions vary hugely in size," he added. "We are telling our members to look at this on a case-by-case basis."
Rumney pointed to the government's Film and TV Production Restart Scheme, which acts as an insurance backstop and can cover all crew costs on Covid-impacted productions.
Speaking exclusively to Broadcast last week, chancellor Rishi Sunak revealed that 40 productions have so far submitted claims to the £500m fund.
The original version of this story first appeared in Screen's sister publication Broadcast.