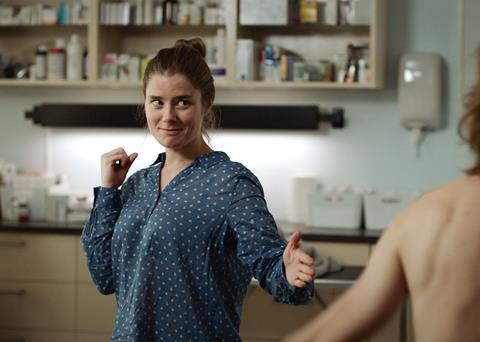 The Broken Circle Breakdown and Tabula Rasa actress Veerle Baetens will pitch her directorial debut, The Melting, at the fourth edition of Flanders Image's annual film and TV showcase CONNeXT (October 6-9).
The Melting is adapted from Lize Spit's novel about a woman looking back on one pivotal summer with the two boys who were her best friends in the small Flemish town of Bovenmeer.
CONNeXT invites international experts to Ghent to preview or screen features and TV series made in Flanders and Brussels. In past years, attendees have scouted films including Lukas Dhont's lauded Girl.
Adil El Arbi and Bilall Fallah, the directing duo who had a local hit with Gangsta and are now working on Sony's Bad Boys for Life, will present their next Belgian film, Kawasaki.
Further films being pitched at project stage include nightclub drama Zillion by The Ardennes director Robin Pront; Baghdad Messi to be directed by Sahim Omar Kalifa and Kobe Van Steenberghe and based on their short of the same name; and family film Lilith & The Ghastly Brothers by Michael Van Ostade.
For the first time this year, documentaries are included in the selection.
Feature works-in-progress to be presented are:
Dark Rider (documentary)
Dir: Eva Küpper
Prod co: Serendipity Filmsfils
Four Brothers (documentary)
Dir: Pieter Jan De Pue
Prod co: Savage Film
My Dad Is A Sausage
Dir: Anouk Fortunier
Prod co: A Private View
Rookie
Dir: Lieven Van Baelen
Prod co: Czar Film
Save Sandra
Dirs: Jan Verheyen and Lien Willaert
Prod co: Eyeworks
What Makes Us Boys (documentary)
Dirs: Janet van den Brand,Timothy Wennekes
Prod co: Diplodokus
Yummy
Dir: Lars Damoiseaux
Prod co: a team
Four Brothers, about Eastern Ukrainian brothers who fought on opposite sides of the 2014 conflict, won the Eurimages co-production prize at 2019 CPH:DOX.
First look
Twelve completed films are screening at CONNext, including Tim Mielants' Karlovy Vary award-winner Patrick; Toronto premiere The Barefoot Emperor by Peter Brosens and Jessica Woodworth; festival hit The Best of Dorien B. by Anke Blondé; Bas Devos' Cannes selection Ghost Tropic; family film Binti by Frederike Migom; drama Tench by Patrice Toye; and WWII action film U-235.
Completed TV shows screening include The Twelve by Wouter Bouvijn; Studio Tarara by Tim Van Aelst and Wim Geudens; and Floodland by Erik de Bruyn.
TV works in progress include Red Light starring Carice van Houten; the second seasons of Hotel Beau Séjour and Undercover; political thriller Blackout from Joël Vanhoebrouck; wine comedy A Good Year by Kadir Ferati Balci; and fat camp comedy drama Albatros by Wannes Destoop.
TV pitches are F*** You Very, Very Much, the new series from Tabula Rasa showrunner and creative producer Malin-Sarah Gozin; Lost Luggage by Hotel Beau Séjour director Nathalie Basteyns; Gert Embrechts' drama Check Point; and a documentary about The Vatican from Kat Steppe.
The speakers at this year's CONTeXT conference programme will include Curzon CEO Philip Knatchbull, REinvent Studios CEO Rikke Ennis, NRK xxecutive producer Marianne Furevold-Boland (Skam) and Walter Iuzzolino of Walter Presents.