Since Screen revealed last week that the launch of 'cPass', a website claiming to be a UK equivalent of US cinema subscription service MoviePass, had provoked concern among the country's exhibitors and distributors, chatter has continued in public and industry circles.
Screen has now spoken to cPass founder Puya Vahabi about his plans for the fledgling service and how the offer is likely to develop in the coming months. In the interview, Vahabi revealed that the company does not see a £9.95-per-month cinema subscription service, which offers UK customers one cinema ticket per day (as advertised on its website), as sustainable.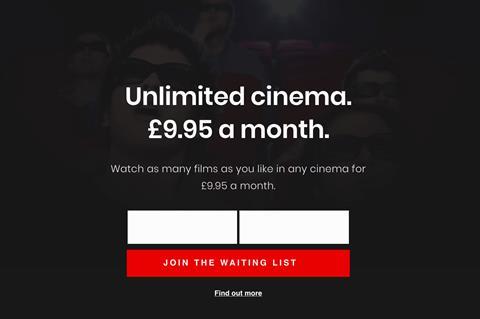 "This is just a limited offer, it's for the first 5,000 people [to subscribe]," he explained. "Similar services exist in the US [such as MoviePass] and everybody knows that those are not sustainable. It seems difficult if movie theatres do not agree in the long term to decrease the price in some kind of partnership."
For the initial wave, cPass will need to pay full price to cinemas for each ticket, though it's not clear how that will be bankrolled as at present the team has no funding in place to build its business beyond the initial period.
However, Vahabi said the company "has different long-term solutions" for its business model that it plans to trial, ranging from harnessing data for promotional purposes to using the platform to specifically target unsold tickets. The service could also be expanded to different forms of entertainment.
"We don't want to create it just for cinema, we want to expand to other events such as concerts and theatre," commented Vahabi, who noted that the end result is to "build a sustainable model per user" whatever that might look like.
Vahabi is bankrolling the first movements, including employing two freelance developers. At present, the team is exploring three ways of potentially raising further capital: crowdfunding, an IPO (initial public offering), and venture capital investment.
Vahabi said he expects to have more than 10,000 sign-ups by next week, meaning that the 5,000 trial spaces have already been filled. The company claims to be aiming to send out its first cards to customers in 3-6 months depending on the development process of its platform.
The initial offer will only be available for London cinemas. At present, there are no participating exhibitors in the UK. However, Vahabi said that because cPass will be tied up with a pre-paid Mastercard, customers will be able to use the service "at any cinema accepting credit or debit cards" (Mastercard confirmed to Screen that it has no partnership in place with cPass).
The soft launch of cPass is an initial test phase like that undergone by most start-ups, explained Vahabi, who is a lecturer at UC Berkeley in the US and has previously worked on multiple online ventures.
The founder admits that demand has vastly outpaced their expectations. "We didn't launch anything, we are in beta. This is done by 95% of start-up companies. It was not our intention to provoke such a mess," said Vahabi on the press and industry fallout that cPass has provoked.