Illumination's animated film debuts in the UK, Mexico and Russia, among others this weekend.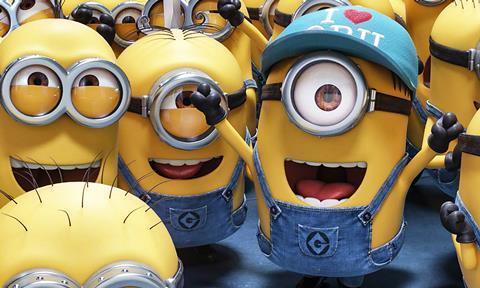 Illumination's Despicable Me 3 kicked off in six territories ahead of the rest of the world through Universal Pictures International and currently stands at $25.5m as it prepares to roll out to the rest of the world this weekend.
The Steve Carell and Kristen Wiig animation debuts in 48 territories along with North America this week, including the UK, Mexico, Russia, Spain, and Brazil.
Tom Cruise's 'Dark Universe' vehicle The Mummy stands at $356m worldwide, with $284.8m coming from the international box office and the remaining, a disappointing $71.2m from North America.
Transformers: The Last Knight starring Mark Wahlberg, Laura Haddock and Anthony Hopkins debuted in 41 territories through Paramount Pictures International last weekend. Michael Bay's fifth instalment of the 10-year franchise stands at $253.3m internationally.
After Wednesday's franchise low $15.7m opening day in North America, pressure was put on international markets to do the heavy lifting.
The film co-financed and co-marketed by online ticketing giant Weying Galaxy opened at number one in 40 territories last weekend.
While China's $125.3m debut was the largest opening in that market, 35% ahead of that of Age Of Extinction, other international markets - like the $12.9m generated in South Korea and $5.9m in the UK - showed signs of Transformer fatigue, adding further pressure to the tentpole.
When combined with the $82.1m North American haul, Transformers: The Last Knight stands at $335.4m worldwide as it heads into the weekend.
Also from Paramount, Baywatch starring Dwayne Johnson and Zac Efron stands at $86.4m with no new openings.
Warner Bros Pictures International and DC's Wonder Woman has earned $347.2m internationally. King Arthur: Legend Of The Sword stands at $102m, while Going In Style has grossed $37.9m thus far.
R-rated comedy The House starring Will Ferrell, Amy Poehler and Jason Mantzoukas will debut in the UK and Australia this weekend.
Teen romance Everything, Everything stands at $10.2m and has no new openings.
From Fox International, Alien: Covenant has grossed $155.1m, while DreamWorks Animation's The Boss Baby has reached $318.4m. Action comedy Snatched starring Amy Schumer and Goldie Hawn has grossed $12.8m.
Captain Underpants: The Epic Movie has reached $6.5m, while Diary Of A Wimpy Kid: The Long Haul stands at $10.6m as it debuts this weekend in Australia. Gifted stands at $5.3m as it ventures into Colombia and Spain this weekend.
Pixar's Cars 3 has reached $47m through Walt Disney Studios Motion Pictures International and has no new debuts this weekend.
Pirates Of The Caribbean 5 has amassed $525.8m and debuts in Japan this weekend, while Guardians Of The Galaxy Vol. 2 stands at $471.7m and is completely opened.
Beauty And The Beast has amassed $754.2m at the international box office.