For the second week in a row three new films opened in the top three spots at the UK box office, with Universal's Despicable Me finding more friends than Oscar-tipped The Social Network.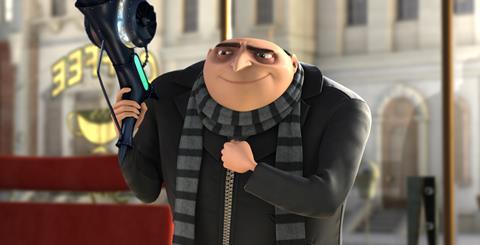 Pierre Coffin's animated family-comedy finally reached the UK after beginning its successful international rollout in July, taking $5.9m (£3.7m) from 522 screens at an impressive $11,121 (£7,020) screen average.
The opening take was the biggest since Toy Story debuted on a whopping $33.6m (£21.2m) in late July.
Sony's drama The Social Network, about the founders of social-networking website Facebook, opened in second place, grossing $4m (£2.5m) from 394 screens for another strong screen average of $10,000 (£6,311). The Social Network is David Fincher's biggest opener in the UK since his breakout hit Se7en, which debuted on $18.1m (£11.4) in January 1996. While Benjamin Button, Zodiac, Panic Room and Fight Club all garnered a degree of critical acclaim none managed more than $3.5m (£2.2m) on opening in the UK.
Thanks to The Other Guys, Eat Pray Love, Grown Ups and now The Social Network Sony has pulled ahead of eOne as the sixth-highest earner among UK distributors in 2010. Fox still leads the way with a 16.66% of the market share, but Disney follows closely behind with 16.50%, having released eight fewer films.
Fox's comedy Vampires Suck was the week's third top 20 opener, entering the chart in third position. The spoof made $1.7m (£1.1m) from 361 screens for a $4,785 (£3,018) print average.
For the second consecutive week Paramount's seventh-placed Made In Dagenham posted the smallest decrease in profit among top 20 films, posting a -32% week-on-week downturn for a total of $4.1m (£2.6m).
This week sees a host of promising new releases, including saturation coverage for Warner's Legend Of The Guardians and Africa United, Paramount's Paranormal Activity 2, Lionsgate's Alpha and Omega, Sony's Easy A, and eOne's graphic novel adaptation Red.
Despicable Me and Legends Of The Guardians are sure to profit from the upcoming half-term school break, action-adventure Red boasts a name cast and Paranormal Activity 2 will be hoping to emulate the success of the first Paranormal, which took $5.7m (£3.6m) with its debut in November 2009.