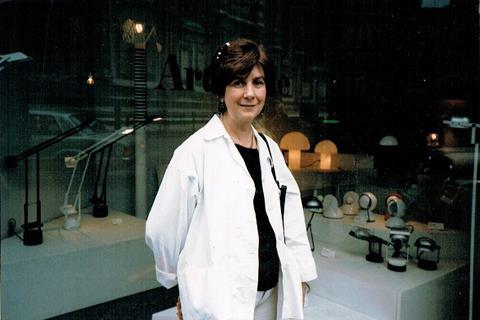 Pioneering British cinematographer Diane Tammes – the first woman to graduate in camera from the UK's National Film and Television School (NFTS) – has died, on May 30 aged 78.
Tammes began her career as a stills photographer in Scotland, working at Edinburgh's Royal Lyceum and Glasgow's Scottish Opera and Citizens Theatre.
After attending the NFTS in 1971 – the school's second year in existence – Tammes became the first woman to be accredited by the Association of Cinematograph, Television and Allied Technicians.
Her membership brought about a change in the grade from 'cameraman' to 'cameraperson'.
She went on to work extensively with filmmaker and film theorist Laura Mulvey, on features including 1977 drama Riddles Of The Sphinx and 1982 comedy Crystal Gazing, both of which Mulvey co-directed with Peter Wollen.
In 1977, Tammes was part of Granada Television's first all-female crew on the 'Some Women Of Marrakesh' episode of its Disappearing World series.
She was the first winner of the Bafta Television Craft Award for Film or Video Photography in 1992 for the 'Casualties – Homerton Hospital' episode of documentary series Cutting Edge. This was the first year of the award after it was renamed from Award for Video Cameraman.
She was also a board member in the early days of support organisation Women in Film and TV, and served on the BFI board of Governors under Richard Attenbourgh's chairmanship.
Her extensive travel included shooting Women Under Siege in Palestine in 1984, and filming in Bosnia during the conflict in the 1990s.
She also returned to Glasgow to make several pieces of work about the city in the late 1980s and 1990s, through her production company Reality Productions.
Mulvey has written a tribute to her colleague and friend below. We invite you to add your own tributes to Diane in the comments section at the bottom of the page.
When Peter Wollen and I received funding from the British Film Institute Production Board to make our second 'theory film', in 1977, we were determined to find a camera woman to shoot it. This was not an easy task at the time.
Fortunately, a mutual friend told about Diane Tammes who had graduated from the National Film School in 1976, specialising in cinematography. When we asked Diane if she would take on the film, which became Riddles of the Sphinx, we explained that its central section - its story - would consist of thirteen tableaux, each consisting of a 360% pan.
When we later looked back on this moment, with hindsight and more experience, Peter and I realised that we hadn't understood the demands this shooting strategy would make on its cinematographer. Diane took on the challenge with a total lack of hesitation and immediately set to work to make it a reality.
It's hard to overestimate her contribution to Riddles of the Sphinx. Diane brought an extraordinary rigour and determination to her work but also ingenuity and imagination. These personal qualities, reinforced by her outstanding professionalism, gave our films the kind of mobility and luminosity that lie at the heart of cinema.
Riddles of the Sphinx was the beginning of a friendship, as well as an extremely rewarding working relationship and Diane shot all the rest of Peter's and my films. When our collaboration came to an end in 1983, Diane stayed personally close to us. Many years later, she and I tried to develop, unfortunately unsuccessfully, a project about the importance of 16mm for both the experimental and documentary film movements that she had been so closely involved with.