Board praises chairman and CEO's 'outstanding leadership' and 'record of success' as search for successor continues.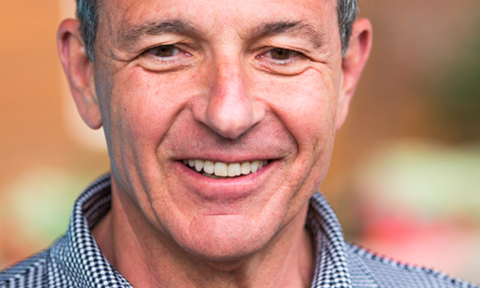 In a third contract extension to Bob Iger's term that will bring comfort to shareholders, the Walt Disney Company announced the development on Thursday.
Iger, 66, will now serve as chairman and CEO through July 2, 2019. Disney shares climbed a little below 1% to $112.24 at close of trading.
While the latest delay in his retirement plans reflects the dearth of world-class leaders in entertainment whom the board deems fit to assume the reins, it speaks volumes about the man at the centre of all this.
Iger is admired by the board and shareholders and is cited by some Hollywood insiders as the best CEO in corporate America.
The executive has broadened a renowned global brand with the launch last year of Shanghai Disneyland Park, and assembled arguably the most formidable stable of commercial content providers in the business.
Under his 12-year tenure the Walt Disney Company has acquired Marvel Studios, Pixar and Lucasfilm. Disney films released in the last five years occupy four out of the top five North American opening weekends of all time, and four of the top 10 all-time hits. However Iger has faced challenges with the television business and consumer products.
"Given Bob Iger's outstanding leadership, his record of success in a changing media landscape, and his clear strategic vision for Disney's future, it is obvious that the company and its shareholders will be best served by his continued leadership as the Board conducts the robust process of identifying a successor and ensuring a smooth transition," Orin C. Smith, independent lead director of the Disney board, said.
"Mr. Iger has led The Walt Disney Company to unprecedented success during his 11 years as CEO, driving Disney to new creative heights, expanding the Company's global reach, fostering technological innovation, and delivering year-after-year of record financial results.

"During his tenure, Mr. Iger has created enormous value for shareholders, with total shareholder return of 448%, compared to 144% for the S&P 500, and a dramatic increase in the Company's market capitalization to $177 billion from $46 billion."
"Leading this great company is a tremendous privilege, and I am honored to have been asked to continue serving as CEO through July 2, 2019,"Iger said. "Even with the incredible success the Company has achieved, I am confident that Disney's best days are still ahead, and I look forward to continuing to build on our proven strategy for growth while working with the Board to identify a successor as CEO and ensure a successful transition."