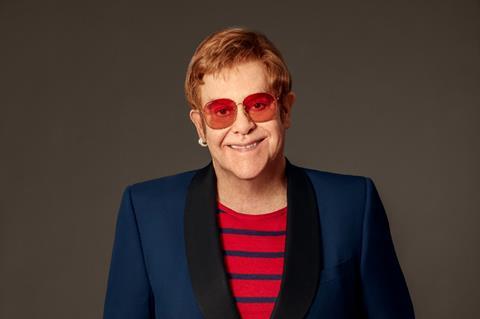 R J Cutler and David Furnish are to direct a documentary about Elton John for Disney Original Documentary and Disney+, with the studio planning festival exposure and a limited theatrical release before the project's streaming debut.
Goodbye Yellow Brick Road: The Final Elton John Performances and The Years That Made His Legend will make use of unseen footage of the singer-songwriter in concert over the past 50 years as well as hand-written journals and present-day footage of John (Furnish's partner) and his family.
The film will document John's Farewell Yellow Brick Road Tour, set to end with a final North American shows at Los Angeles' Dodger Stadium this November, and look back at the singer's rise to fame in the early seventies.
Cutler, who last year made Oscar-shortlisted feature documentary Billie Eilish: The World's a Little Blurry, will produce the film through his This Machine Filmworks while Furnish will produce for his and John's Rocket Entertainment. Trevor Smith will also serve as producer and John Battsek, Jane Cha Cutler and Elise Pearlstein will serve as executive producers.
Furnish commented: "Elton and I could not think of a better collaborator than R J Cutler for a film that represents more than just Elton's career - it's his life. From the Troubadour to Dodger Stadium, we knew that R J would help guide Elton's story and its many layers in a way that feels authentic and evocative. We're ecstatic to be working together."
Walt Disney Company CEO Bob Chapek added: "Like a good Disney story, Elton's music has both universal appeal and the ability to connect with audiences on a deeply personal level. He has been part of the Disney family since 1994 when he helped make The Lion King an instant classic, and we could not be more excited to collaborate with him on this new documentary."