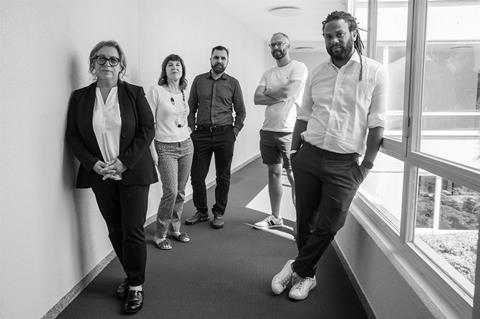 Diversity and 'big data' can help ensure the survival of the theatrical business for independent film, according to experts speaking at the StepIn conference at the Locarno Festival.
The speakers at the event, held on August 3, were Diana Elbaum, producer at Beluga Tree, EFM director Matthijs Wouter Knol and The Black List founder and CEO Franklin Leonard.
Disparate audiences
Distributors need to move away from the idea audiences for independent films only exist in upper middle-class areas and cities - for example New York and Los Angeles in the US - according to Leonard.
"If you want to make an indie film it would [traditionally] be distributed in theatres in upper middle-class areas and cities," he said. "You had to get it in New York or Los Angeles or you wouldn't get it anywhere else. Maybe there was a large audience outside those cities for that film but the people making distribution decisions were all in that narrow locus."
Leonard said looking at data in a more sophisticated way gives distributors "the ability to knit together seemingly niche audiences into a large audience for different kind of films".
"The people making decisions about what films are distributed, how theatre are run, where theatres are put, need to better reflect the places where we live. We can't have people say 'that doesn't reflect this community' when they have never participated in that community."
"There's a class issue here as well as a race issue," he adds. "We need to open up to the audience as it is actually is… and the more money we'll make. It's a reflection of just how deep movie biases run that people are willing to make less money to protect the hegemony that they maintain over their locus of power.
Producer Elbaum, who runs Belgium production company Beluga Tree, described the backlash she experienced from exhibitors when she tried to release Nabil Ben Yadir's Les Barons, a comedy about four Moroccan men living in Brussels, in Belgium in 2009.
"The first reaction [from an exhibitor] was: 'I don't want the film because they will destroy the cinema. If you want the film in our theatre, pay for the guards.' This is how difficult it is changing perceptions, that was seven years ago… but it's still happening now. We still have to go through the cliché. When I pitched Les Barons to a French financier they said: 'where are the police in your film?' We still have to go through the cliché. The financiers don't live in the places where those guys are from."
"Diversity is not a social justice topic, it's a business topic," said the EFM's Knol. "For the industry to survive we need to look at how we are making film, it starts in our own companies. It should be different generations, genders, ethnic and cultural composition. How will we reach people outside of those experiences? You can also do it by working with other companies."
"At EFM this year," he added, "we had McKinsey present a report that said if companies have a larger representation of women in their decision-making level, have 20% chance of higher performance. It influences everything you do. for the industry to survive we need to look at how we are making film, it starts in our own companies."
Elbaum said independent producers still "shy away" from sharing data with each other.
"The sharing of information is extremely important but actually we're not it doing it," she said. "We never speak about, 'who was your audience on your last film, because I'm doing a similar film'."
Knol suggested piracy can also be a source of good audience data. "Piracy can show that a film is being sold on street corners in Shanghai, or for example can give you ideas for what topics might be interesting in places where you didn't think they would be interesting… we can learn from that."
Theatrical windows
The panel addressed simultaneous streaming and theatrical releases, as topical as ever this year thanks to the Cannes/Netflix spat and the recent row between Italian distributor Lucky Red and exhibitors over Venice title Sulla mia pelle (On My Skin).
"For me simultaneous Netflix and theatrical releases are not a threat if theatres offer a value proposition," said Leonard. "I remember when there was a rumour that Netflix would make Crouching Tiger 2 a simultaneous release, the CEO of a major US exhibitor chain said: 'people want to watch a film like that on a movie theatre, [so] we refuse to put it in our theatres'. If it's true that people want to see it in theatres it should not be a threat that it's also available on streaming platform.
"He was saying the only reason people watch films in theatres is because they have no other option and we need to preserve this false scarcity in order to prop up our business – that's a sure sign that your business is not long for this world."
Elbaum said she has "no problem with day and date" but can't do it because of rules around theatrical windows in Belgium and France.
"In my territory usually the decision about which film goes in which theatre is taken in Paris, where they don't know anything about my actors or directors. If my film is out of cinemas after a week if it's not good enough - because there are so many films competing for the same space - why do I need to wait four months in Belgium, or 22 months in France? Life goes faster than those rules. It doesn't make sense to wait."