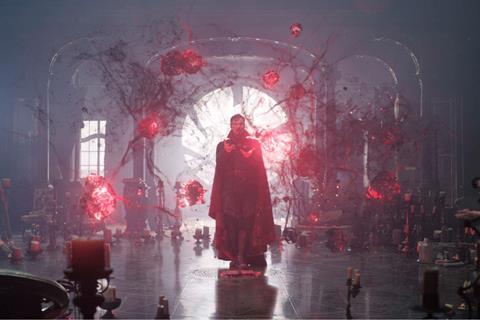 Doctor Strange In The Multiverse Of Madness has crossed $400m in North America, becoming the second highest release of the year to date behind Top Gun: Maverick.
Disney/Marvel Studios' superhero sequel starring Benedict Cumberbatch and directed by Sam Raimi stands at $400.3m and crossed the milestone on Wednesday, its 41st day in release.
It becomes the 10th Marvel Cinematic Universe release to reach the milestone after: Avengers: Endgame ($858.4m), Spider-Man: No Way Home ($804.8m), Black Panther ($700.1m), Avengers: Infinity War ($678.8m), The Avengers ($623.4m), Avengers: Age Of Ultron ($459m), Captain Marvel ($426.8m), Iron Man 3 ($409m) and Captain America: Civil War ($408.1m).
Doctor Strange In The Multiverse Of Madness has grossed $535m internationally and $935.3m worldwide. December 2021 release Spider-Man: No Way Home remains the top-grossing film of the pandemic on $804.8m in North America, $1.1bn internationally and $1.9bn worldwide.
While box office inevitably lags behind pre-pandemic 2019, signs that audiences are returning to cinemas for tentpoles will encourage studio executives. Jurassic World: Dominion has raced to $182.5m after six days and stands at $473m worldwide – the half-billion target is likely to be acheived tomorrow (June 17) – and this weekend brings the release of Disney/Pixar's Lightyear.
Warner Bros' Elvis and Universal's The Black Phone open the following weekend and Universal/Illumination's Minions: The Rise Of Gru arrives on July 1, followed by Marvel Studios' Thor: Love And Thunder a week later. Summer releases include Sony's Bullet Train with Brad Pitt.
Away from the success of tentpoles, it remains to be seen over a longer period how the specialty sector will fare as mature audiences have been less reluctant to return to cinemas than their younger counterparts.
Distributors have expressed cautious satisfaction with New York. Cesar winner Lost Illusions earned $15,182 from six sites through Music Box and more than $10,000 from two New York venues when it opened over the weekend and the company has planned a 60-day theatrical run.
Neon's Cannes entry Crimes of The Future from David Cronenberg stands at $2m after two weekends and A24's Men from Alex Garland has taken $7.5m after four sessions.