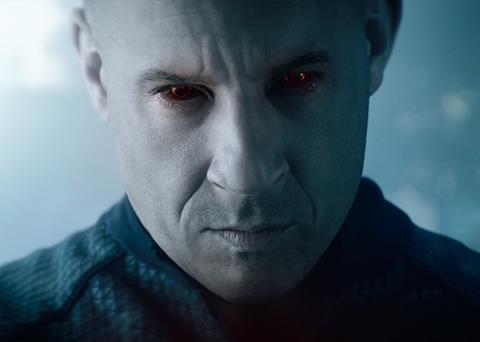 Universal's Dolittle topped China's first full weekend box office following the reopening of the country's cinemas, grossing $5.1m over three days (July 24-26), according to figures from Artisan Gateway. Sony's Bloodshot, distributed by Bona Film Group in China, came in second with $2.7m, suggesting the audience is responding to new titles more readily than re-runs.
Chinese thriller Sheep Without A Shepherd, which was playing when China's cinemas were closed due to Covid-19 on January 23, came in third with $2.2m, followed by two Disney rereleases – Coco with $700,000 and Zootopia with $100,000.
China's cinemas started reopening on July 20, although Beijing theatres were only allowed to open on July 24, and cinemas in the city of Dalian in northeast China were closed again on July 23 after authorities found a cluster of Covid-19 cases originating in a seafood processing factory.
Less than half the country's cinemas opened in the first week, all of which are operating at 30% capacity to allow for appropriate social distancing between customers. Government guidelines also include mandatory temperature checks, wearing of face masks for both staff and customers, contactless ticketing and a ban on concessions.
In total, China's nationwide box office brought in $12.6m over the three-day weekend, which is encouraging compared to the miniscule numbers that emerged when around 500 cinemas attempted to reopen in March, but is still far below weekend averages during times of normal business.
According to Artisan Gateway figures, China's box office for the year to date is just $336m, compared to $5.09bn for the same period in 2019.
Sonic The Hedgehog and Jojo Rabbit are both scheduled to open this weekend (July 31), along with the rerun of Disney's Big Hero 6 and two local titles – animation Mr Miao and The Enigma Of Arrival. Interstellar is scheduled for August 2, while the weekend of August 7 sees the opening of Ford v Ferrari and Sam Mendes' Oscar-winning 1917.
Sony recently confirmed that Bad Boys For Life has been dated for August 14, which will also see the rerelease of Harry Potter And The Sorcerer's Stone, in 3D and 4K restorations to celebrate the franchise's 20th anniversary.