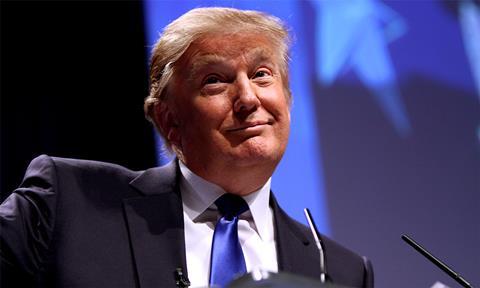 Gabriel Sherman is lining up to write The Apprentice for Gidden Media, which will explore how the young Donald Trump embarked on the road to the White House.
The story will chart Trump's rise to power from the perspective of influential people in his life, among them the lawyer and mentor Roy Cohn, the late, hard-nosed attorney who served as chief counsel to senator Joseph McCarthy during the Communist witch hunt trials in the early 1950s and was eventually disbarred for unethical practices.
Amy Baer will produce through her Gidden Media. Sherman, a special correspondent for Vanity Fair who wrote the 2014 Roger Ailes biography The Loudest Voice In The Room, will serve as executive producer
"As a journalist, I've reported on Donald Trump for more than 15 years," Sherman said. "I've long been fascinated by his origin story as a young builder coming up in the gritty world of 1970s and '80s New York. This formative period tells us so much about the man who today occupies the Oval Office."
Baer added, "Gabe is an extraordinary storyteller as well as an impeccable journalist. The timeliness of this subject, combined with Gabe's professional pedigree and integrity, makes this a rare alignment of talent and subject."
Gidden Media is in post­production on Brian Banks, directed by Tom Shadyac and starring Aldis Hodge and Greg Kinnear. IFC will release Gidden Media's Toronto 2017 premiere Mary Shelley directed by Haifaa Al Mansour and starring Elle Fanning on May 25.