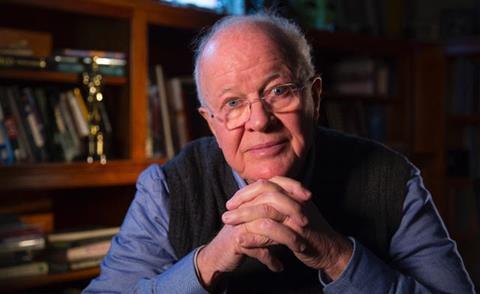 Douglas H. Trumbull, the VFX pioneer who worked on 2001: A Space Odyssey and earned three Oscar nominations for his work on Close Encounters Of The Third Kind, Blade Runner and Star Trek – The Motion Picture, has died. He was 79.
Trumbull's wife Julia said the filmmaker passed away on Monday (7) from complications from mesothelioma.
He was born on April 8, 1942, in Los Angeles, to Marcia Hunt, an artist, and Donald Trumbull, an engineer who had received his start in Hollywood as a special effects rigger on The Wizard Of Oz. Trumbull demonstrated an early interest in art, technology and photography and after college worked as an illustrator and airbrush artist for the animation studio Graphic Films, contributing paintings of space modules, lunar surfaces on documentaries for NASA and the U.S. Air Force.
He provided similar services for Graphic Films on its 1963 short film To The Moon And Beyond, which was seen by Stanley Kubrick and Arthur C Clarke and led to Trumbull working on Kubrick's 1968 sci-fi epic 2001: A Space Odyssey. Initially in England to providing special photographic effects, Trumbull rose to become one of four special effects supervisors on the film and created the revolutionary "slit-scan" photography process for the iconic Stargate sequence. 2001: A Space Odyssey won the Oscar for special visual effects.
Back in the US he set up his own production company and used the slit-scan technique in promotional segments for ABC's Movie Of The Week and the opening and closing sequences in the 1968 sex comedy Candy. He later worked on visual effects for sci-fi thriller The Andromeda Strain, directed Silent Running - one of many films he directed – and worked on commercials and special projects.
He worked on Close Encounters Of The Third Kind, Star Trek – The Motion Picture and Blade Runner, devised innovative technologies for studio attraction rides, and formed multiple companies that delivered pioneering entertainment technologies. Later in his career he served as visual effects consultant on Terrence Malick's The Tree Of Life.
in 2012 Trumbull was awarded the Academy's honorary Gordon Sawyer Award in recognition of his outstanding technological contributions to the industry.
He is survived by his wife Julia Hobart Trumbull and stepchildren Emily Irwin and her husband Josh Irwin, John Hobart Culleton and his wife Jialing Zhang, and Ethan Culleton as well as grandchildren Julian Edelman, Lily Edelman, Willow Culleton, Oscar Culleton, Jasper Irwin and River Culleton.
He also leaves behind his first wife Cherry Trumbull and their children Amy Trumbull, and Andromeda Stevens and grandchildren Jackson Moon, Tyler Kagy, Sarah Kagy and one great-grandchild, Alice Moon; his sister Betsy Hardie and half-sister Kyle Trumbull-Clark, Mimi Erland, and stepsister Katharine Trumbull Blank. Also surviving him is stepson John Vidor. His second wife, Ann Vidor, her son Charles and Trumbull's sister Susie Chapin preceded him in death.