European Commission vice-president Andrus Ansip failed to allay industry concerns about plans for copyright reform as part of the the Digital Single Market (DSM) strategy when he spoke on the second day of the European Film Forum in Tallinn.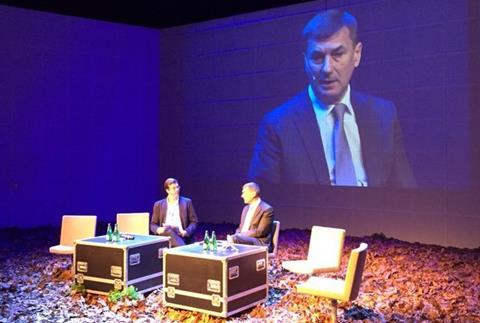 "Copyright reform is just part of the Digital Single Market (DSM) strategy, it is not the whole package," Ansip told Screen International editor Matt Mueller during a fireside chat on Thursday.
"We don't want to destroy the whole system based on the principle of territoriality. We don't want to make some kind of explosion or revolution. We would like to have this in a step-by-step approach."
It was a case of "déjà entendu" for many in the audience when Ansip trotted out his well-rehearsed pronouncements on such issues as geoblocking, portability and territoriality.
Indeed, he did not appear to have advanced from the positions formulated and presented more than six months ago at the European Parliament in Strasbourg when he had an exchange of views with MEPs in the culture and education committee
Turning to the reactions of the film industry to the DSM plans over the past few months, Ansip said: "I think that there were a lot of misunderstandings at the beginning. I never promoted the idea of pan-European licenses and the principle of territoriality will stay.
"When we talk about portability, we are talking about the temporary use of content when people are travelling abroad. We will not create an environment where somebody can misuse the regulations which allow portability of the content.
"Some people thought that the Commissioner wants to allow free access for everybody, but I'm not representing Pirate Party here [in a reference to MEP Julia Reda]. I am talking about paid access and a win-win situation and we are wanting to provide more money to our creators.
"We don't want to destroy the whole business model, but we have to make some changes," he argued.
In a brief Q&A session, Ansip deployed his skills as a seasoned politician to avoid specifically addressing the issues posed in questions by two women filmmakers from Norway and Denmark about the contradiction implicit in his call for an end to absolute territorial exclusivity and the lack of transparency from platforms such as Netflix about audience figures and revenues generated for films available there.
Asked whether the Commission would push for more transparency from VoD services about its audience figures and revenues, Ansip said, "[I]t is too early to say what kind of measures exactly we will use, but that is one of those options because a level playing field and remuneration are among the aims of the Digital Single Market strategy.
"We have to change the system because our cultural diversity is not well protected, the diversity of languages is not protected and our creators are not well remunerated."
'Full steam ahead'
Ahead of his appearance at the European Film Forum, Ansip declared in a blog that the Commission's plans for building a DSM strategy were "moving full steam ahead".
"We want to listen to everybody, we need to analyse and we need to get it right," he said, adding that "that is without even mentioning the political sensitivities involved across 28 EU countries, the interests of industry, business and consumers."
Ansip noted that plans for reforming copyright will be presented in a strategy paper by the end of this year. "It will set out ways to make sure that our cultural production can widen its audience across EU countries — and listeners, viewers and readers want this.
"We want artists to be fully and fairly paid for their work, to support new artistic creativity and production," he said. "For me, creativity and innovation are the EU's main competitive strengths."
According to Ansip, the Commission's commitment is "to finalise the DSM proposals by the end of 2016".
"I sincerely hope that the timing does not slip for any of our initiatives," he explained. "We cannot afford major delays or any dilution of our ambition. The digital economy will not stop and wait."
Brussels exchange
Ansip's attendance at Tallinn's European Film Forum came less than a week after he had an exchange of views with a group of filmmakers, including The Artist's Michel Hazanavicius and Polish producer-director Dariusz Jablonski on how best the Commission can help the film industry to make the most of the opportunities offered by the DSM.
The "constructive dialogue" between the filmmakers and the EC vice-president covered a range of issues such as copyright enforcement, portability and cross-border access as well as strategies for investment in production and promotion, the contribution of VoD platforms to the financing ecosystem, digitisation of European film heritage and the fight against piracy.