Another British actor earned his place in convention lore on Saturday as the Oscar-winner and star of the upcoming Fantastic Beasts And Where To Find Them handed out wands to everybody in Hall H.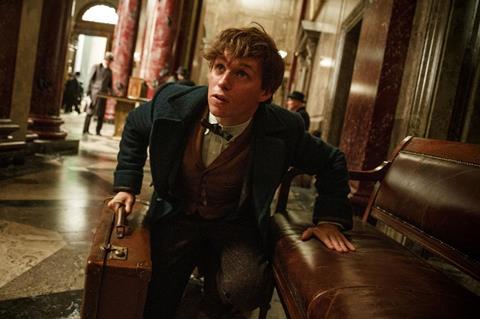 The decision by the Warner Bros hierarchy to have Redmayne walk among the people – many of whom were screaming in glee – was a masterstroke finale that lifted what had otherwise been a typically loud presentation, albeit one inflected with more nuance and humour than this studio's Comic-Con appearances are known for.
An otherwise satisfying session for executives had dipped into awkwardness earlier in the session when Suicide Squad director David Ayer acknowledged that someone would probably live-stream the trailer he was about to introduce – hitting on one of reasons why Hollywood has broadly stayed away this year.
DC director roll-call
Moderator Conan O'Brien kicked off the session with an initial roll-call of the DC Entertainment directors that included Ayer alongside Zack Snyder (Justice League), Patty Jenkins (Wonder Woman), Ben Affleck (the Batman reboot), James Wan (Aquaman) and Rick Famuyiwa (The Flash).
Brief tub-thumping over, Jenkins took the podium to introduce Wonder Woman cast members Gal Gadot, Chris Pine and Connie Nielsen and show the world premiere of the first trailer, which intersperses sequences of Gadot among the gods with furious World War One action sequences.
Jenkins, who has been shooting six-day weeks for the last six months and confirmed that the superhero's invisible jet does not play a part in this instalment but might make a future appearance, said the story was timely.
"The way news has been going it's so hard to pay attention to other things… the world needs love and forgiveness in such a huge way." Wonder Woman is due out on June 2, 2017.
Snyder brought on Ben Affleck, Gadot, Jason Momoa, Ezra Miller, Ray Fisher and Henry Cavill for the Justice League segment and teased first footage.
Despite the familiar gunmetal grey palette of a DC Entertainment property, the footage betrayed long overdue humour and quirkiness as Bruce Wayne recruits the team with the help of Wonder Woman, scuffles with Momoa's Aquaman, lines up with Fisher's Cyborg, and witnesses Miller's The Flash dodge and then catch a batarang.
Justice League has been shooting for two months and is scheduled to open on November 17, 2017.
'We know you're going to live-stream it'
Speaking of left-field sensibility, Ayer's Suicide Squad is leading the charge for DC as it attempts to match the variety and showmanship of Marvel Studios and the film promises fauvist splashes of colour and attitude by the bucketload, if the trailer is anything to go by.
"We know you're going to live-stream it and Periscope it," said Ayer in a toe-curling moment of glaring honesty that will have made attending Warner Bros Entertainment chairman and CEO Kevin Tsujihara and his cohorts hot under the collar. "We wish you wouldn't but we know it's going to happen."
Regardless of that, the Hall H crowd lapped up the trailer. Warner Bros is betting big on the film after what would have been viewed in Burbank as a below-par box office for Batman vs Superman: Dawn Of Justice and the August 4 tentpole has been tracking well.
Ayer introduced to the stage the entire lead cast from his R-rated romp about a group of dangerous criminals recruited for a government mission.
Will Smith, pumped up and hailing the crowd with his usual rambunctious glee, said Ayer pushed the actors to expose their fears and vulnerabilities as an effective way of bonding. Margot Robbie revealed she learned to hold her breath underwater for five minutes while training for the role of Harley Quinn.
Smith recounted how Jared Leto adopted the persona of The Joker early on in the process. During rehearsals Leto sent a box to Margot Robbie, who was shocked to discover it contained a live rat.
"I was playing Deadshot but if I had had pearls on I would have clutched them," said Smith to loud whoops of laughter.
Tom Hiddleston brings Hall H to its feet
The session included a segment on The LEGO Batman Movie, which is set to open on February 10, 2017, before Tom Hiddleston brought Hall H to its feet with his appearance to trumpet Kong: Skull Island.
The presentation featured the only film that Legendary Entertainment is promoting in Hall H at the convention this year. O'Brien looked uncomfortable when he gave a shout-out to Legendary chief Thomas Tull in what felt scripted and registered a faint smattering of applause, mostly from the front where the studio entourages sit.
Oscar winner Brie Larson joined Hiddleston alongside John Goodman, Corey Hawkins, Jason Mitchell and director Jordan Vogt-Roberts, who showed first footage from the story, which takes place in Vietnam in the 1970s.
The crew discussed the intense shoot. When Larson was asked how the vast setting contrasted to her acclaimed performance in a confined space in Room, she quipped: "I had better insoles." The film is due out on March 10, 2017.
Charlie Hunnam said he tried not to think too much about the history of playing the lead in King Arthur: Legend Of The Sword, which in the absence of director Guy Ritchie he described not unsurprisingly as a new take on the British legend.
"The genesis of this character in this incarnation is he has grown up in abject poverty but he's a survivor," said Hunnam.
"So we made him a street kid. He's actually doing rather well for himself, so when the call for destiny comes to him his reaction is to [reject it…] but he gets convinced it's a destiny he cannot deny."
Footage showed Hunnam pulling the iconic sword Excalibur from the stone, several gritty combat sequences, supernatural creatures, and a sinister Jude Law as the villainous Vortigern.
Newt Scamander casts spell over Hall H
All of which led up to Fantastic Beasts And Where To Find Them. Knowing that director David Yates, who helmed the final four Harry Potter episodes, was not going to give anything away, the studio smartly orchestrated the Redmayne Hall H walk-about.
Everybody received a wand and was told to scream 'Lumos maximus' as the house lights went up and Redmayne took a photograph that he said would launch a Snapchat channel called Wizarding Wands.
It was a moment to rank alongside Hiddleston's famous Hall H appearance dressed as Loki for Marvel Studios several years ago and the audience was buzzing about it after the session ended.
Yates showed footage of a shadowy world filled with beautifully dressed characters, sumptuous surroundings and a beguiling milieu imbued with mystery and magic. JK Rowling's Harry Potter spin-off takes place in New York in the 1920s and centres on New Scamander (Redmayne), whose exploits the young Potter reads about at Hogwarts many years later.
So impressive were the costumes that cast members Colin Farrell, Dan Fogler and Ezra Miller paid tribute to costume designer Colleen Atwood, whose work is likely to loom large over awards season. Fantastic Beasts And Where To Find Them opens on November 18.