EXCLUSIVE: Joint initiative Propellor Film Tech Hub will champion innovation in how films are produced, distributed and experienced; fourth partner is Berlin-based company Cinemathon.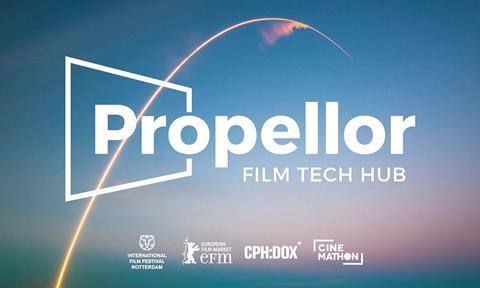 The new scheme is being launched today (December 8).
Propellor is a joint initiative between the International Film Festival Rotterdam (IFFR), Berlin's European Film Market (EFM), Copenhagen-based film festival CPH:DOX and Berlin-based film innovation studio Cinemathon.
Cinemathon managing director Erwin Schmidt told Screen that the project was an attempt to bring a tech "start-up" mentality to the film world and give the industry a "safe space" to experiment and develop new ways of thinking before bringing these ideas to market.
He said: "We are literally aiming to propel the film industry into the future. We are not a think-tank, we're not interested in talking. We want to literally try things and see how we can bring in innovation and ignite a culture of change.
Tine Fischer, director and founder of CPH:DOX, said: "The fact is that the film industry hasn't changed fundamentally for a hundred years. Driving innovation is hard from within and we believe that bringing in entrepreneurial spirit and experience from related sectors is not only necessary from a business perspective but also the only way of making film as an art form survive."
EVENTS
There will be four Propellor events throughout 2017.
Propellor Kickstart at Rotterdam on February 1 hosted by IFFR; a one and a half day brainstorm, with two projects created during the event pitching to CineMart award ceremony.
Propellor Speednic in Berlin on February 14 hosted by EFM; invitation-only working session for members of film and tech/start-up industries.
Propellor Springboard in Copenhagen hosted by CPH:DOX on March 17-19; a two and half day 'Hackathon' with two projects created during the event pitching at CPH:DOX Art, Tech, Change conference.
Propellor Springboard in Berlin hosted by Cinemathon on April 28-30; follows the same format as Copenhagen event.
Talking about these events, Fischer said: "It's important not only to plan prototypes but to build the prototypes, that it's an incubator that walks the talk. You can use the festivals and markets as a testbed, as collaborators and you can have partners that are close to the industry but are not necessarily the industry itself. I think this is unique."
Bero Beyer, festival director at IFFR, said he hopes to establish a "year-round model" with Propellor. "We want to return the following year and show what has been developed. We want to use the festival platforms not just to talk and create ideas but to implement them and create impact."
LEARNING FROM TECH
The organisers were keen to stress that they are not interested in developing specific film projects but new business models that could help the industry as a whole.
Propellor aims to connect the film industry with the latest in technology such as big data, artificial intelligence, blockchain as well as with new forms of social interaction such as co-creation, crowdsourcing and the sharing economy.
Fischer used the games industry as an example of how film could learn from tech. She said: "[In] Scandinavia, the world of gaming and the world of film in the last 10 years have been pretty separate – it terms of how they work but also how they are financed and distributed. What this project could do is to bring the worlds of gaming, film and broadcast together.
"There is something inherently attractive about the way startups work," adds Schmidt. "They work in a very fast, agile way. They test and try out and they might fail by doing so. This is something we traditionally don't really do in the film industry.
"We work in very long cycles, we plan years in advance and the financial investment is very high, so on the business side experimentation tends to be rather cautious. We can learn so much from the way startups experiment until they find an innovation that proves to work."
THREE FESTIVALS
Another point of difference for Propellor is that it runs across three film events throughout the year.
"I think one of the new and exciting things is that this is a program set up transnationally and between festivals, a market and an innovation studio," said Matthijs Wouter Knol, director of Berlinale's European Film Market.
"I think it's the role of festivals and markets to take the responsibility for their part of the industry and really venture into R&D (research and development)," adds Bero Beyer, festival director at IFFR.
PROPEL THE INDUSTRY
The founders of Propeller said that the idea was a reaction against the slow pace of change in the film industry and the pressure it is under from new technology.
"The industry urgently needs platforms and spaces where people can think within a 'safe zone' about new distribution and business models as well as how the industry can shape its own future," said Knol.
"Let's not sit here and wait for others to decide what's going to happen. Let's work together and dare to make mistakes and find models that might work for us."