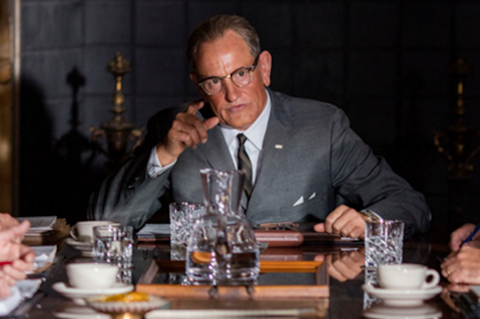 Electric Entertainment has announced it will be teaming with P&A financier Global Pictures Media for Electric's upcoming release LBJ, directed by Rob Reiner and starring Woody Harrelson.
The companies plan a November 3 release in North America on 300-plus screens. Global Pictures Media will act as the exclusive media agency of record and will assist in financing the release with Electric.
LBJ starts in 1960 as Senate majority Leader Lyndon Johnson loses the Democratic presidential nomination to Senator John F Kennedy, played by Jeffrey Donovan.
Johnson agrees to be his young rival's running mate. But once they win the election, despite his extensive legislative experience and shrewd political instincts, Johnson finds himself sidelined in the role of vice-president.
That all changes on November 22, 1963, when Kennedy is assassinated and Johnson, with his devoted wife Lady Bird by his side, is suddenly thrust into the presidency.
As the nation mourns, Johnson must contend with longtime adversary and attorney-general Bobby Kennedy and one-time mentor Georgia Senator Richard Russell as he seeks to honour JFK's legacy by championing the historic Civil Rights Act of 1964.
LBJ received its world premiere at the Toronto International Film Festival last year and stars Jennifer Jason Leigh, Richard Jenkins, Bill Pullman, Donovan and Michael Stahl-David alongside Harrelson.
Reiner, Matthew George, Liz Glotzer, Trevor White and Tim White served as producers.
Electric Entertainment and Global Pictures Media previously partnered on the theatrical release of The Book Of Love starring Jason Sudeikis, Jessica Biel and Maisie Williams.
Grant Cramer, president of Global Pictures Media, said: "We're thrilled to be working again with Dean Devlin's team over at Electric Entertainment. Rob Reiner has crafted a compelling and intelligent film for what is a very under-served demographic and Woody's performance is one of his best in years, and that's saying a lot.
Electric's Chief Financial Officer Jeff Gonzalez added: "We enjoy working with the team at Global Pictures Media and appreciate their dedication toward the successful release of LBJ."
The deal was brokered by Jim Steele. Global Pictures Media is represented by Robb Klein of Sheppard-Mullin.