British actress shares story about the US president on Scandinavian talk show.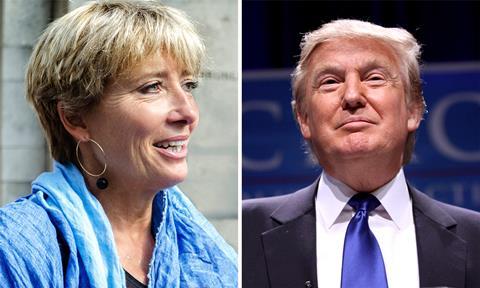 Emma Thompson has said that Donald Trump once asked her out on a date.
The Oscar-winning actress and writer was talking on Norwegian-Swedish talk show Skavlan.
Discussing Trump with host Fredrik Skavlan, she said: "He asked me out once."
Thompson revealed that when she was filming Primary Colours in 1998, the day after her divorce to Kenneth Branagh was finalised, she received a phone call in her trailer.
She continued: "So I lift up the phone - 'Hi, it's Donald Trump here.' And I said, 'Really? Can I help you?' And he said, 'Yeah, I just wondered if I could offer you some accommodation in one of my Trump Towers. They're really comfortable."
She asked why he was offering her somewhere to stay. "Well, I think we would get along very well - maybe have dinner sometime,", Trump replied.
"I didn't know what to do with myself. I was on my own and said, 'I'll get back to you,'" laughed Thompson.
She said she never heard from him again. "I wish I had, think of the stories!" she joked.
Watch the interview below, or HERE on mobile.