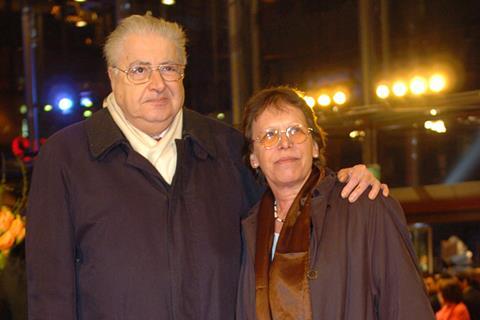 Erika de Hadeln, the first woman to head up an A-category film festival, has died at the age of 77 after a long illness.
She founded the Nyon International Documentary Film Festival (now known as Visions du Réel) in Switzerland with her Swiss husband Moritz in 1969. de Hadeln oversaw the festival organisation and programmed the selection with her husband who served as director of the festival until 1979. de Hadeln took over at the helm in 1981 to 1993.
It was during these 25 years in Nyon she worked with many leading documentary filmmakers such as Joris Ivens, Basil Wright, Herz Frank, Erwin Leiser and Georges Dufaux.
In spite of many challenges and a limited budget, Erika and Moritz de Hadeln succeeded in making Nyon a unique meeting place for documentary filmmaking and discovering new talents as well as serving as an inspiration for other documentary festivals such as those launched later on in Amsterdam or Munich.
The couple had first met during one of Erika's many stays in Paris as a student at the Sorbonne. He was then a photographer and documentary filmmaker and Erika participated in the making of his second documentary Ombres et Mirages. In Christian Jungen's biography 'Moritz de Hadeln - Mister Filmfestival', published in early 2018, Moritz de Hadeln recalls his Swiss parents were furious that he had become engaged in 1966 to ¨a German of all people¨ and didn't meet her until two years after their marriage in West Berlin in January 1968.
When husband Moritz was appointed director of the Berlin International Film Festival in 1979, Erika de Hadeln joined him in Berlin and was actively involved in the practical organisation of the event such as protocol affairs and in the selection of films for the Official Programme, with a focus on US, UK, Italian, French and Chinese cinema.
Long before the Internet and social media dominated the workings of every international film festival, Erika de Hadeln was the first one to introduce computer technology on a large scale into the organisation of an international festival. Her formidable organisational skills were also deployed when her husband served as director of the Venice International Film Festival from 2001-2003
Together with husband Moritz and the late film expert Hans-Joachim Schlegel, she co-authored joint publications by the Nyon and Berlin festivals on documentary films from the Baltic Soviet Republics (1988), the Armenian Soviet Republic (1989), and Romania (1990) to accompany their retrospectives.
Other landmark retrospectives organised by the couple for the festivals in Nyon, Locarno (where de Hadeln served as director from 1972-1977), and Berlin were dedicated, among others, to Uzbek cinema, Canadian ¨cinema-direct¨, the Swiss Army Film Unit, and South East Asian cinema.
Honours bestowed on her over the years included Chevalier in the French Ministry of Culture's Order of Arts and Letters, Honorary FIPRESCI Prize and Ecumenical Jury Prizes (jointly with Moritz de Hadeln).
Erika de Hadeln is survived by her husband, Moritz.