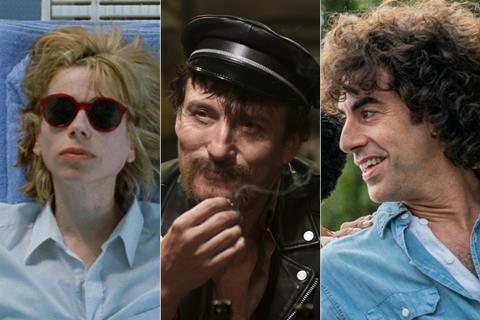 France, opening Wednesday September 30
French comedy My Cousin by Jan Kounen was the biggest release of the week in France on just under 700 prints for Pathé. Vincent Lindon stars as the uptight chief of a family business empire on a mission to get his wayward cousin, who owns half its shares, to sign off on a mega-deal.
Cannes 2020 label feature animation Josep was the second widest launch on 200 prints for Sophie Dulac Distribution. This was followed by Israeli-French drama The End Of Love by Keren Ben Rafael on around 150 prints for Condor Distribution.
Two titles that would have played in Cannes Directors' Fortnight this year also hit French screens this week.
Apollo Films launched Miranda July's crime comedy caper Kajillionaire on 80 prints while Jour2Fête released Daniel Dufresne's documentary The Monopoly Of Violence on 90 prints. The latter, exploring police violence in France, has proved a breakout title, taking the third top slot with 10,000 entries on the opening day, for a gross of around $78,000.
Cannes Critics' Week 2019 title Heroes Don't Die by Aude-Léa Rapin also hit theatres on 85 prints for Le Pacte.
The only foreign language release of the week was Korean filmmaker Hong Sang-soo's drama The Woman Who Ran on 40 prints in a joint operation by Les Bookmakers and Capricci Films.
Germany, opening Thursday October 1
The US majors have two titles opening in German cinemas this week. Warner Bros is releasing Dennis Gansel's family adventure Jim Button And The Wild 13, based on Michael Ende's eponymous children's classic and the sequel to Gansel's 2018 box-office hit Jim Button And Luke The Engine Driver.
Meanwhile, Universal launches Eliza Hittman's coming of age tale Never Rarely Sometimes Always, which won the US Dramatic Special Jury award at Sundance and Silver Bear at Berlin this year, as well as topping Screen's Berlinale Competition jury grid.
Other releases include Philippa Lowthorpe's comedy Misbehaviour (eOne), based on real events during the 1970 Miss World beauty competition; Andre Erkau's tragicomedy God You're Such A Prick (Leonine); and Oskar Roehler's homage to the New German Cinema legend Rainer Werner Fassbinder in Enfant Terrible (Weltkino). The latter film had been selected for the competition section of this year's Cannes Film Festival and opened the Filmfest Hamburg last week (24 September). Also debuting is Croco Film's reprise of the late Joseph Vilsmaier's award-winning historical drama Autumn Milk from 1988.
This was to have been the opening weekend for Warner Bros' release of Patty Jenkins' fantasy adventure Wonder Woman 1984, the sequel to her 2017 film Wonder Woman, until it was delayed to 23 December due to Covid-19.
Italy, opening Thursday October 1
With almost 80% of movie theatres now open for business, Italian distributors will try to boost releases throughout October.
Netflix's The Trial Of the Chicago 7, written and directed by Aaron Sorkin is receiving a small theatrical release two weeks in advance of its debut on the streaming giant itself.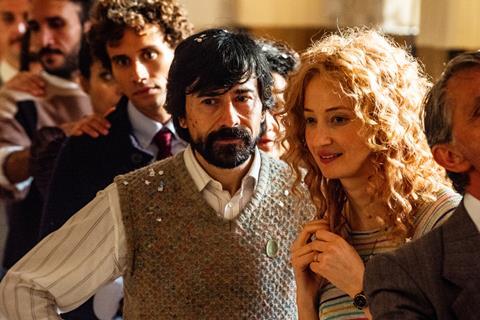 Daniele Luchetti's out of Competition Venice opener The Ties, about a marriage in crisis across several decades, is distributed by 01 Distribution.
Another Venice premiere, Giorgio Verdelli's documentary Paolo Conte, Via Con Me about the Italian swing composer and singer Paolo Conte is distributed in a three-day window by Nexo Digital.
Eagle Pictures is releasing Alice Waddington's 2019 sci-fi drama Paradise Hills, with a starry cast including Emma Roberts, Danielle Macdonald, Awkwafina, Eiza González, Milla Jovovich, and Jeremy Irvine.
Arnaud Desplechin's Cannes 2019 noir drama Oh Mercy! is released through Nomad Entertainment; while Fenix Entertainment is distributing local poker comedy Burraco Fatale by Giuliana Gamba
UK & Ireland, opening Friday October 2
Eternal Beauty, the second feature from Welsh actor and filmmaker Craig Roberts, is released this weekend through Bulldog Film Distribution, playing in 53 sites across its first week. Starring Sally Hawkins, David Thewlis, Penelope Wilton, Billie Piper, Alice Lowe, and Morfydd Clark, the dark comedy follows a depressed woman (Hawkins) who encounters new sources of life and love.
Trafalgar Releasing is handling the UK and Ireland distribution of On The Rocks, Sofia Coppola's comedy-drama about a young mother reconnecting with her playboy father in New York. The film is produced by A24, who are releasing in the US; it will hit streaming platform Apple TV+ on October 23.
Aaron Sorkin's The Trial Of The Chicago 7 is another potential awards contender receiving a theatrical release shortly before its online debut. It will play in 150 locations this weekend through Altitude, two weeks before its debut on Netflix on October 16. The historical drama stars Sacha Baron Cohen, Eddie Redmayne, Yahya Abdul-Mateen II, Joseph Gordon-Levitt, Mark Rylance, and Jeremy Strong, in the story of seven people on trial stemming from various charges surrounding the uprising at the 1968 Democratic National Convention in Chicago, Illinois.
Altitude is also distributing documentary David Attenborough: A Life On Our Planet to over 300 locations, following an initial release on Monday, September 28. Screenings will be followed by a pre-recorded Q&A between Attenborough and fellow UK documentarian Michael Palin.
Warner Bros, which has Tenet and Bill And Ted 3 already in cinemas, is releasing Cats & Dogs 3: Paws Unite, in which a supervillain parrot discovers a way to manipulate wireless frequencies that only cats and dogs can hear, threatening the long-standing peace between the two species.
Signature Entertainment has family animation The Elfkins in 457 locations; Kaleidoscope is conducting a small release for photographer documentary That Click, building to 30 screens by the end of the month; while Malou Reymann's Rotterdam 2020 transgender drama A Perfectly Normal Family is screening in five locations through Modern Films.