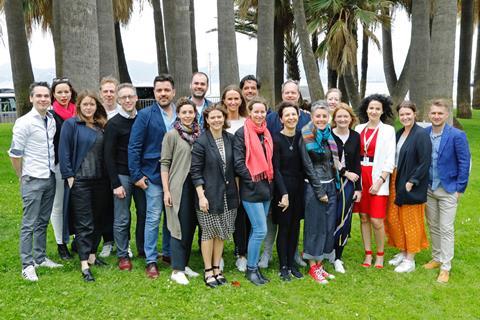 European Film Promotion (EFP), the network of film promotion institutes from 37 countries throughout the continent, is planning a series of digital solutions that will enable it to continue promoting European cinema to the international film industry at both physical and virtual festivals and markets as a response to the travel challenges posed by the Covid-19 pandemic.
The first event where EFP's digital strategy is due to kick in will be at the Hot Docs Canadian International Documentary Film Festival (April 30-May 10). While the Toronto festival's public screenings are expected to be postponed until October, the industry part of Hot Docs will be held entirely online during the original dates.
As part of this will be the third edition of the 'The Changing Face of Europe' section which showcases European filmmakers and is supported by EFP.
"The 10 filmmakers we have selected will be fully integrated into the digitally-organised industry programme of panels and case studies," EFP's managing director Sonja Heinen explained. "We are working with the festival on a panel to be streamed online about the promotion of documentaries outside of their home territories. In addition we will be looking to match our filmmakers and producers via online meetings with distributors and festival programmers who we think could be of interest."
While Cannes has said it is hoping to move the festival and market to the end of June/beginning of July, EFP has decided to keep to the May date for its Producers on the Move (POM) showcase of 20 of Europe's most promising up-and-coming international producers.
"This is the only one of our initiatives which is really standalone and is independent of a specific event," Heinen explained. "We have always used Cannes as a platform because it meant that we had access to so many experts in one place. But it was often the case that they had very tight time schedules and couldn't commit whereas a digital solution would have the practical advantage that we have better access to the experts."
"What will be important for us is how we are able to create a good working atmosphere with the speed meetings and roundtable pitches and also give the participants an opportunity to interact with one another online over these five days," she continued. "It could be this special situation sees a greater solidarity developing between this year's group of selected producers."
If Cannes does reschedule, Heinen said there would be the opportunity for this year's line-up of producers to then meet up with the other participants in the south of France after initially getting to know one another via the online initiative.
Launched 21 years ago, POM has seen more than 420 producers participate in the programme, with many going on to become respected international players with films screening at leading festivals around the globe. Moreover, the networking between POM's participants has resulted in several longstanding working partnerships. Between 2016 and 2019 alone, 47 co-productions involving 58 different Producers on the Move were realised, according to the organisation.
Last year's cohort was announced on April 21.
Further events
Heinen said it is still unclear whether the Europe! Voices of Women in Film programme, which EFP has run in collaboration with the Sydney Film Festival since 2016 to promote gender diversity, will run in an online version.
The Sydney Film Festival was due to take place from June 3-14, 2020, but was cancelled on March 18. Organisers are understood to still be working out if a digital version of the festival can take place.
In a joint statement on the festival website dated March 18, chairperson Deanne Weir, CEO Leigh Small and festival director Nashen Moodley said: "In the coming months we will also be looking at opportunities to continue to celebrate film and filmmakers."
Meanwhile, Heinen revealed the selection for the sixth edition of the Future Frames showcase of 10 outstanding film students and graduates from schools throughout Europe is due to be finalised next week with the Karlovy Vary International Film Festival (July 5-8).
The festival is understood to still be going ahead as planned, as of late March, but EFP is planning a digital version of Future Frames as a contingency.
"We are glad that this initiative is very important for Karlovy Vary because it is the only programme of shorts at the festival, so they are very committed to continuing this partnership," said Heinen. "We will now be exploring the possibilities to organise masterclasses and meetings online for the selected filmmakers."
Since being launched in 2015, Future Frames has showcased young filmmakers such as Austria's Patrick Vollrath, the Czech Republic's Ondřej Hudeček, Greece's Konstantina Kotzamani and Luxembourg's Eileen Byrne to the international film industry and press attending the festival.
"The role of a mediator"
"There's a great uncertainty about what one should do faced with this current situation of the pandemic, so EFP is increasingly assuming the role of a mediator and central point of contact for information and support," said Heinen who is now introducing reduced hours of work for the EFP staff in Hamburg and herself in light of the ongoing crisis to save operating costs.
"Our member organisations see that EFP is somewhere where they can get updates about the latest status of festivals and markets. Moreover, we are planning video conferences for our members so they can hear the latest developments from, for example, Jerome Paillard about Cannes' plans for a digital market," she continued. "It is, of course, more practical for him to speak to all our members in one session rather than having to contact them all individually."
Heinen said she saw the crisis as a time for organisations to become more digitally focused.
"The current situation gives us the opportunity to help those of our member organisations who have not such developed digital tools for their work," she said. "We can introduce them to experts in the field who could then arrange online training programmes with a group of members sharing the costs."
Heinen revealed EFP is now considering using ever more digital solutions to enhance its umbrella events at festivals and markets going forward.
"It is also important to see what we can do for the umbrellas we have organised in the past at festivals like Toronto, Busan, Hong Kong and the AFM," Heinen explained. "We are now waiting to see what the festivals and markets think of our umbrellas being digitally based.
"Moreover, we are waiting to see if opening the Film Sales Support Scheme for more digital promotion and pitching so that sales agents don't have to be physically present at a festival or a market could work within the Creative Europe guidelines.
"It would be crazy for us to turn down offers from the festivals to continue our collaborations because this is a way to help the filmmakers, producers and sales companies who are already having a hard enough time as it is," Heinen concluded.