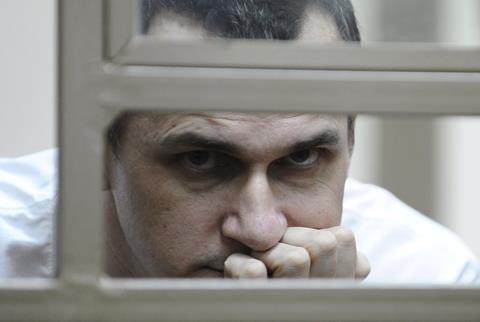 Leading European and Ukrainian film figures have responded to the news confirmed today (Sept 7) that Oleg Sentsov, the Ukrainian filmmaker arrested by Russia in 2014 and accused of plotting terrorist acts, is finally back on Ukrainian soil, freed as part of a prisoner exchange between Russia and Ukraine.
"We – the film community – feel extremely happy and relieved. European Film Academy was fighting for Oleg's freedom from the very beginning. Now, we have to help our friend to catch up, to live, to create, to express himself. I admire his courage and integrity during this difficult time," Polish filmmaker Agnieszka Holland told Screen.
Sentsov's fellow Ukrainian filmmaker Sergei Loznitsa, who has been presenting his new feature documentary State Funeral (about Stalin's funeral) in Venice this week, was equally ecstatic about Sentsov's release, telling Screen: "I'm very happy! I'm very happy for Oleg, very happy for his family! I'm very happy that this noble and courageous man is free, that his voice will again be heard. I'm very happy for all the Ukrainian political prisoners who have been liberated. As for our professional community, this is yet another lesson in solidarity. We must remember those who are in trouble, and we must do everything we can to save their lives."
The news of Sentsov's release was also welcomed by the head of Film Industry Association of Ukraine (FIAU), Volodymyr Yatsenko, albeit with the caveat that many Ukrainian political prisoners are still in captivity in Russia following the war between Ukraine and Russia.
"First of all, I am really grateful for everyone who was involved in this operation for Sentsov," Yatsenko said of the campaign to free Sentsov, which saw leading political figures including German chancellor Angela Merkel and French president Emmanuel Macron intercede on his behalf. "I think he [Sentsov] is one of those guys who had the highest level of dignity because he was jailed for absolutely nothing. We understand it was absolutely for political reasons."
However, the FIAU head added: "We have thousands of other political prisoners, not only Ukrainian but Russian as well, in jail in Russia for political issues. We have to keep pressure to resolve this and to release them. The release of Sentsov is a very important example of collaboration between film industry representatives from different countries to work together to put pressure on authorities to release people important for the industry."
UK producer Mike Downey, deputy chairman of the European Film Academy, which has campaigned tirelessly for Sentsov's release, praised the director whose debut feature Gamer won a Fipresci prize at the 2012 Odessa International Film Festival: "The bravery of Oleg Sentsov and his courage in the face of such terrible odds is an example to us all in these troubled times, that there is honour in holding firm to one's principles. Oleg Sentsov is a strong artist who has survived the worst of the Putin regime and now he should be given the time he needs to adjust to this world that he left behind over five years ago."
"The international film community must learn the lesson that there will be regimes that target filmmakers and film professionals, and we need to be prepared to react and campaign whenever that happens," Downey added.
Speaking in Venice earlier this week, Mikhail Khodorkovsky, the former Russian oligarch, oil tycoon and political activist who was also imprisoned in Putin's Russia and is the subject of Alex Gibney's Citizen K, gave his own thoughts on why Sentsov might have been released.
"It's only my opinion, it's not fully fact [but] there are some persons in Ukrainian prisons who may be witnesses for the Dutch government about MH-17," Khodorkovsky said, referring to the downing of Malaysia Airlines Flight 17, which was shot down en route from Amsterdam to Kuala Lumpur in July 2014 over Ukrainian airspace. "Putin wants to take those persons from that court and he is ready to exchange Sentsov for those persons."