Montreal's genre festival also unveils first wave of titles for its upcoming 20th Anniversary edition.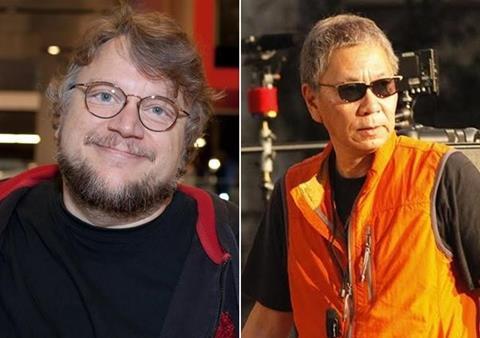 Scroll down for first wave of titles
Guillermo del Toro and Takashi Miike are set to attend the 20th anniversary edition of Fantasia International Film Festival (July 14-Aug 2) in Montreal.
In his first-ever appearance at the festival, del Toro (Pan's Labyrinth, Hellboy) will be presented with the Cheval Noir award.
He will also deliver a masterclass and host the Canadian premiere of documentary Creature Designers: The Frankenstein Complex, in which he is featured.
Meanwhile, prolific director Miike will receive a Lifetime Achievement Award for the mark he has left on the festival over its 20 years. Nearly 30 of his films have been showcased at Fantasia and he has opened the festival three times.
Miike will also host the North American premiere of his latest film Terraformars, about a team of misfits who must fight humanoid cockroaches to colonise Mars, and As The Gods Will which is centred on a surreal deathgame involving traditional Japanese objects.
20th anniversary
Festival co-director Mitch Davis told ScreenDaily that it is "surreal" for Fantasia to have reached its 20th year, given how uncommon genre film festivals in North America were when it began.
"Nobody was crazy enough to put on an event that lasted a straight month as we used to do," said Davis. "It's such a great feeling for us to be able to continue doing this so many years later, and our audience remains so completely amazing.
"As film-going habits are shifting in this part of the world with an ever-deceasing focus on communal theatrical experiences, which saddens me to no end, it's particularly exhilarating to see so many people continue to come out in support of atypical, against-the-grain storytelling shown on such a large scale."
Davis added that the impact of Fantasia on Quebec's film culture has made all of the festival's team "intensely proud", citing the emergence of the likes of Turbo Kid film-makers Anouk Whissell, François Simard and Yoann-Karl Whissell.
"We've been around for so long that there's now a generation of film-makers in Quebec that some have dubbed The Fantasia Generation," added Davis.
"The Turbo Kid team have been coming to the festival since year one, they used to have fake IDs just to get into the age-restricted screenings.
"There was a time when many of the hipper video stores in town had dedicated Fantasia sections on their shelves, and several of the last-surviving rental shops still have them."
First wave of titles
The first wave of Fantasia titles for 2016 features four world premieres, including the latest film from Secretary film-maker Steven Shainberg.
Rupture, starring Noomi Rapace, Peter Stormare and Michael Chiklis, centres on a single mother struggling to escape from a mysterious organisation that has abducted her.
Mateo Gil's Realive (a modern take on Frankenstein), grisly Argentinean supernatural shocker The White Coffin and Geoff Redknap's feature debut The Unseen will also receive their world premieres at this year's edition.
Notable international premieres include Ti West's In A Valley Of Violence, Eiichiro Hasumi's Assassination Classroom: Graduation, Australian horror-comedy Red Christmas and John Carchietta's SXSW title Teenage Cocktail.
Kiyoshi Kurosawa's Creepy, David F. Sandberg's Lights Out, Yeon Sang-ho's Seoul Station, Jim Hosking's The Greasy Strangler, Taiki Waititi's Hunt For The Wilderpeople and Richard Bates Jr.'s Trash Fire are also among the films in the first wave.
This year's poster was again designed by award-winning Quebec visual artist Donald Caron, who has paid tribute to characters and iconography from previous Fantasia posters.
The full line-up of more than 130 feature films will be announced on July 5, with a second wave announcement in June.
During the festival, Frontières International Co-Production Market and Industry Rendez-Vous will take place July 21-24. Frontières unveiled its first selection of projects earlier this month.
FANTASIA
FIRST TITLES
WP - world premiere; IP - international premiere; NAP - North American premiere; CP - Canadian premiere; QP - Quebec premiere
Abattoir, Darren Lynn Bousman (IP)
The Alchemist Cookbook, Joel Potrykus
Americana, Zachary Shedd (IP)
Antigang, Benjamin Rocher (NAP)
As The Gods Will, Takashi Miike (NAP)
Assassination Classroom: Graduation, Eiichiro Hasumi (IP)
Atmo HorroX, Pat Tremblay (NAP)
The Bacchus Lady, E J-yong (CP)
Bad Blood: The Movie, Tim Reis (IP)
Bad Cat, Mehmet Kurtuluş, Ayşe Ünal (NAP)
The Bodyguard, Yue Song (CP)
Chihayafuru Part 1 & Part 2, Nori Koizumi (NAP)
Creature Designers: The Frankenstein Complex, Gilles Penso, Alexandre Poncet (CP)
Creepy, Kiyoshi Kurosawa (CP)
The Dark Side Of The Moon, Stephan Rick (NAP)
Embers, Claire Carré (CP)
The Greasy Strangler, Jim Hosking (CP)
Heart Attack, Nawapol Thamrongrattanarit (CP)
Hunt For The Wilderpeople, Taika Waititi (QP)
In A Valley Of Violence, Ti West (IP)
Kidnap Capital, Felipe Rodriquez (CP)
Lights Out, David F. Sandberg
Man Underground Michael Borowiec/Sam Marine (IP)
Miruthan, Shakti Soundar Rajan
Operation Avalanche, Matt Johnson (QP)
Psychonauts, Alberto Vázquez, Pedro Rivero (CP)
Realive, Mateo Gil (WP)
Red Christmas, Craig Anderson (IP)
Rupture, Steven Shainberg (WP)
Seoul Station, Yeon Sang-ho (CP)
Teenage Cocktail, John Carchietta (IP)
Terraformars, Takashi Miike (NAP)
They Call Me Jeeg, Gabriele Mainetti (CP)
Trash Fire, Richard Bates Jr. (CP)
Under The Shadow, Babak Anvari (QP)
The Unseen, Geoff Redknap (WP)
We Are The Flesh, Emiliano Rocha Minter (NAP)
We Go On, Andy Mitton, Jesse Holland (CP)
The White Coffin, Daniel de la Vega (WP)
Women Who Kill, Ingrid Jungermann (IP)