NOVEMBER 21 UPDATE: Spin-off achieves biggest openings of the Harry Potter franchise to date in 16 markets.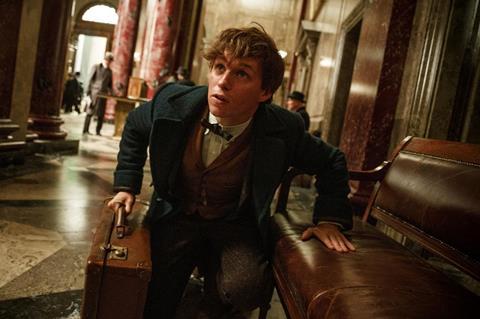 WARNER BROS PICTURES INTERNATIONAL
UPDATE: Fantastic Beasts And Where To Find Them delivered a magical $145.5m overseas debut from its 63 markets.
The spin-off achieved the biggest openings of the Harry Potter franchise to date in 16 markets, including South Korea ($14.2m), Russia ($9.8m) and Brazil ($6.4m), and enjoyed the biggest opening weekend of 2016 in Germany ($10.2m) and Italy ($6.6m), among others.
Its biggest opening came in the UK with a whopping $19.2m for the biggest opening of the year to date and outpacing every Harry Potter film except both parts of Deathly Hallows.
Other highlights included a $7.4m bow in Australia, $5.8m in Mexico and $4.5m in Spain, with openings in China and Japan to come next weekend.
At 665 IMAX screens worldwide, Fantastic Beasts conjured up $15m with $7m coming from 276 IMAX screens overseas. Among its records, it posted the biggest IMAX opening of the Harry Potter franchise in 33 markets, including the UK, South Korea and Germany.
German title Willkommen Bei Den Hartmanns added $3.7m from its two territories for $15.3m to date. It is a production of Wiedemann & Berg Film GmbH & Co. KG and Sentana Filmproduktion.
The Accountant accumulated a further $3.3m from its 62 markets for $57.7m to date.
WILD BUNCH
Feng Xiaogang's satire I Am Not Madame Bovary posted an estimated overseas bow of $28.2m from its four territories, according to ComScore.
The film premiered at Toronto and stars Fan Bingbing as a woman determined to restore her honour after a fake divorce and charges of sexual misdeeds.
WALT DISNEY STUDIOS MOTION PICTURES INTERNATIONAL
With no new openings, Doctor Strange brought in an extra $26m from its 53 territories for $390m overseas, crossing the $100m mark in China in the process.
Marvel's latest posted decent holds worldwide, despite the global opening of Fantastic Beasts, falling only 50% in Brazil, 46% in Germany and 32% in Finland. Ahead of its opening in Argentina next weekend, its leading markets are China ($103.2m), South Korea ($39.6m) and the UK ($26.4m).
With $571.5m worldwide, Doctor Strange has now surpassed the global results of Ant-Man ($520m) and will soon overtake Iron Man ($585m). It has grossed $60m from IMAX screens worldwide.
FOX INTERNATIONAL
UPDATE: Falling only 42% overall, Trolls danced to $12.5m from its 72 markets for $146.2m, with seven markets - including Australia - still to open.
DreamWorks Animation's latest offering held well in the UK with $1.5m for $26.2m after five weeks in play, with the film adding $1.1m (-25%) for $7.6m to date in Spain and $861k (-10%) for $7.4m to date in Germany.
Miss Peregrine's Home For Peculiar Children now stands at $174m overseas ahead of its release in China (December 2), while Keeping Up With The Joneses has grossed $12.3m and opens in Mexico this week.
LIONSGATE INTERNATIONAL
UPDATE: Deepwater Horizon drilled up an extra $8.1m from its 24 markets for $52.2m overseas, ahead of its release in Germany and Spain this week.
The majority of its weekend was driven by a six-day $7.9m debut in China to chart third, already making it the leading overseas market for the film ahead of the UK's $7.1m haul to date.
ARRIVAL
Landing in Spain with $975k from 323 screens, Arrival took an extra estimated $6.5m from its 27 markets for an early $21.65m.
From its five FilmNation Entertainment territories, the critically acclaimed sci-fi added an estimated $2.9m for $11.35m to date. It fell only 45% against Fantastic Beasts in the UK to add $1.7m for $7m, and added $922k for $3.2m in Australia.
Its 22 Sony markets delivered $3.5m for $10.3m, including the solid Spanish debut and an $850k second weekend in Russia for $3.5m to date. Sony opens the film in Brazil and Germany next weekend.
THE GIRL ON THE TRAIN
UPDATE: DreamWorks Pictures' The Girl On The Train journeyed to $4.2m from its 56 territories through Universal and Mister Smith Entertainment for $86.6m so far.
The adaptation held well in Mexico with $540k for $2.2m after ten days in play and opened in Argentina with a strong $454k from 109 sites to chart second. It arrives in Peru next weekend.
SONY PICTURES RELEASING INTERNATIONAL
Ahead of its release in Australia next weekend, Billy Lynn's Long Halftime Walk added an estimated $3.9m from its nine markets for an early $22.6m.
Inferno uncovered $3.8m from its 59 markets for $178.5m overseas to date, with France posting a $1.2m second weekend for $4.8m and Japan up to $12.6m after four weeks in play.
PARAMOUNT PICTURES INTERNATIONAL
Jack Reacher: Never Go Back shot to another $3.8m from its 45 markets for $80.2m so far.
It held at number two in Japan with $1.1m for $5.3m after ten days and posted a $956k second weekend in Germany for $3.1m to date. The action sequel rides into Brazil and Mexico next weekend.
UNIVERSAL PICTURES INTERNATIONAL
UPDATE: Ahead of its final release in Belgium next week, Blumhouse and Platinum Dunes' Ouija: Origin Of Evil scared up $1.7m from its 48 territories for $44.6m to date.
Nocturnal Animals opened in eight new territories to gross $1.6m from its 11 territories for an early $5.1m. It opened in second in Italy with an $778k debut from 270 sites, and took a further $302k in the UK for $3m after three weeks in play.
Now released in all of its international territories, Working Title's Bridget Jones's Baby delivered $1.5m from its 39 territories for $185.8m overseas, including Studiocanal territories.
French thriller Iris opened with a local debut of $522k from 273 sites, while Focus Features' A Monster Calls posted a $474k seventh weekend in Spain for $27.5m to date.
Illumination Entertainment and Universal's The Secret Life Of Pets now stands at $506.1m overseas and $873.6m worldwide.