Best picture co-presenter breaks silence in NBC interview.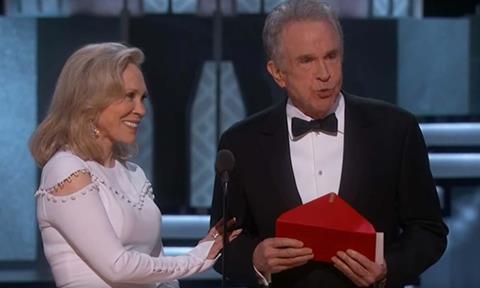 Faye Dunaway said in a broadcast segment on NBC Nightly News on Monday she felt guilty after reading out the wrong best picture winner at the climax of February's Oscars telecast.
Speaking in the exclusive interview, Dunaway recalled events in which she declared La La Land the winner moments after PwC managing partner Brian Cullinan gave co-presenter Warren Beatty the wrong card.
Moonlight was announced the winner several minutes later when the mistake became apparent.
"[Beatty] took the card out and he didn't say anything," Dunaway told interviewer Lester Holt. "He paused, he looked over me, offstage. He looked around, he… and I finally said, 'You're impossible.'
"I thought he was joking, I mean Warren's like that – he holds the power and makes people…" she said, adding after Holt prompted her: "A dramatic pause, you got it. But it's part of his charm… And I read the name of the film on the card."

When asked by Holt if she felt stunned, Dunaway said: "Yeah, completely. I wouldn't say 'deers in the headlight', but you are completely stunned. You don't know what has happened.

"I was very guilty. I thought I could have done something, surely. Why didn't I see Emma Stone's name on the top of the card?"
Beatty weighed in on the incident last week in an on-camera interview with The Guardian to promote his film, Rules Don't Apply.
"There's something kind of ridiculous about it," Beatty said. "There's an attempt to make it a dramatic situation. It just was a goofy mistake that was made by a guy [Cullinan] who has taken a big beating for that and it's kind of sad. I think he was interested in photographing someone and gave me the wrong card.
"So they give you the card. You're not supposed to look at it because you don't know what it is… but they give it to you just before you go out and then you go out and the thing is you say a little something and then you open the envelope and then you hand it to the person you've come with and they say what the card reads… so there."