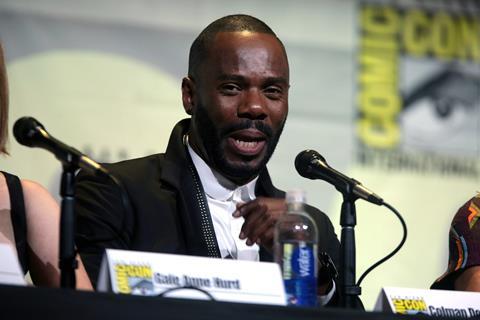 Multi-hyphenate US actor, screenwriter and theatre director Colman Domingo, best known for his starring role as Victor Strand in hit series Fear The Walking Dead, is developing his first drama series at AMC Networks, a family comedy-drama revolving around a strong family matriarch who is slowly losing her mind to Alzheimer's.
Domingo announced the project during a MIPCOM keynote speech by Josh Sapan, president and CEO of AMC Networks, which created the Fear The Walking Dead franchise and its predecessor The Walking Dead.
He joined Sapan on stage in Cannes ahead of travelling to London for the UK premiere of Barry Jenkins's If Beale Street Could Talk as the closing film of the London Film Festival (LFF), in which he has a supporting role.
Provisionally entitled West Philly Baby, the new show develops Domingo's stage play Dot which played to critical acclaim Off-Broadway in 2016.
"The matriarch at the centre has Alzheimer's, it's a dark comedy. It's about how the matriarch, her filter is gone and now that her filter is gone you find out some secrets of the family. Does it upend the family or does it bring them closer together? It brings them more closely together, hopefully over many, many seasons," said Colman.
Domingo is due to continue development on the project with AMC executives on this return to the US from the LFF.
"We're still mining the pilot. I love the fact that, your wonderful executives are like dogs on a bone," Domingo said to Sapan on stage. "We want to make sure we get every note right, are we creating the right spine to take us forward to develop more seasons, or is the right way into the characters so we are going to follow them and stay on a journey with them."
Speaking about his role in Fear The Walking Dead, Domingo said he had not envisioned the journey it would take him on.
"When I first got the script for the Fear The Walking Dead, I thought it was the most sophisticated writing that I had ever read… I had no idea of the journey it would take me on, from shooting in Vancouver and LA to two seasons in Mexico, and then Austin, Texas and that the show would keep evolving in this way."
"The show is really harkening on all of our fears of this possibility that everything will fall apart. It's such great epic and storytelling. I was able to step behind the camera this season, and I will be able to do so again next season. It has so much size, special effects but it's still these beautiful human stories. At the end of the day, the zombies get in the way," said Domingo.
Other AMC projects
Talking more broadly about AMC Networks, Sapan discussed some of the recent landmark moments and shows of the company which encompasses several quality entertainment brands including IFC, BBC America, SundanceTV, We tv, content producer and distributor AMC Studios, and streaming platforms AMC Premiere, Shudder and Sundance Now.
He said AMC Networks had been at the right place at the right time to seize the opportunities thrown up by the digital age and its new distribution models.
"We had the good fortune of working with creative people and setting out to take advantages in changes in technology," he said. "Our current chapter began a decade ago with Mad Men followed Breaking Bad and The Walking Dead," he said. "Technology invites different ways of telling stories. If we can marry that with the best storytellers and curate them against the backdrop of many, many options, the world will pay attention."
He said production and distribution company AMC Studios had been set up a decade ago on the foresight that there would be a number of new entrants into the television world and that there would be increased demand for content.
"We began with one show The Walking Dead and today we have dozens of TV shows, for our own channels and to sell to other outlets around the world," he said.
He highlighted a number of recent productions including Killing Eve, which he said had been the first show in a decade to grow its linear audiences week-on-week during its US run, as well as upcoming shows The Little Drummer Girl, State Of The Union, and Lodge 49, the Long Beach-set new off-beat comedy-drama revolving around a fraternal lodge by Jim Gavi and executive produced by Paul Giamatti, for which he showed a trailer.