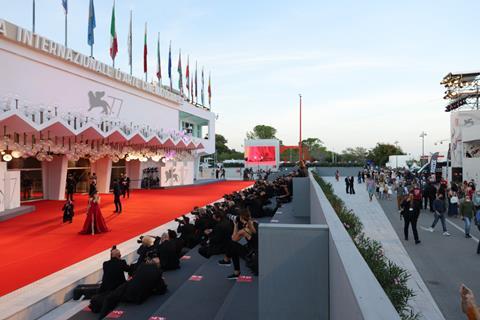 Festivals, and in particular the fall trifecta of Venice, Toronto and Telluride, are likely to be heavily impacted should SAG-AFTRA members still be on strike by the time fall season comes around, according to sources.
SAG-AFTRA has outlined what members can and cannot do once the Guild's strike begins on Friday in a strict strike notice that prohibits performance work, interviews and auditions, and promotional duties.
Scroll down for full strike rules
Besides the devastating effect on Hollywood productions, most of which are expected to come to a screeching halt on Friday except true independent shoots which may be eligible for a Guild waiver, the strike has broader consequences.
SAG-AFTRA has banned actors from taking part in a wide array of promotional work such as tours, festivals, fan expos, For Your Consideration events and awards shows, as well as panels, premieres and screenings, junkets, podcasts, and conventions.
Striking members will also be prohibited from doing interviews, posting on social media in support of their work, and taking part in studio showcases.
The strike presents festival brass with a huge logistical headache on top of the challenges already presented by the ongoing writers strike and its effects became immediately clear on Thursday.
Matthew Modine withdrew from a Q&A for The Martini Shot world premiere at Galway Film Fleadh on Thursday evening, while over in London at the premiere of Christopher Nolan's Oppenheimer cast including Cillian Murphy, Emily Blunt and Matt Damon walked out in solidarity with the striking actors.
TIFF, Venice statements
A spokesperson for Toronto International Film Festival (TIFF, September 7-17) said on Thursday: "The impact of this strike on the industry and events like ours cannot be denied. We urge our partners and colleagues to resume an open dialogue. We will continue planning for this year's festival with the hope of a swift resolution in the coming weeks."
TIFF has already announced that Taika Waititi's underdog story Next Goal Wins from Searchlight Films is scheduled to receive its world premiere in Toronto. Michael Fassbender leads the cast and per SAG-AFTRA strike rules no actor would be permitted to walk the red carpet, take part in interviews or junkets or engage in any promotional work for the film during a strike. TIFF head Cameron Bailey and his programming and publicity team are preparing to announce the line-up over the coming weeks.
The same restrictions will apply to Venice Film Festival presided over by Alberto Barbera, which kicks off fall festival season with the world premiere of Luca Guadagnino's tennis film Challengers starring Zendaya, Josh O'Connor and Mike Faist.
The Lido has also been tipped to premiere Michael Mann's Ferrari with Adam Driver and Penelope Cruz and Yorgos Lanthimos's Poor Things starring Emma Stone and Mark Ruffalo.
A statement from the Biennale read: "We hope that, in the interests of the entire audiovisual industry, the parties will reach an agreement quickly."
Telluride takes place in the Colorado Rockies from September 1-4 and may not be as heavily impacted because it does not stage press conferences or red carpets.
Fantasia International Film Festival artistic director Mitch Davis told Screen: "It's very unfortunate timing, of course, but it's also something that clearly needs to happen. We'll roll with the punches as they come." The Montreal festival runs July 20-August 9.
Top-tier festivals thrive on strong ties with Hollywood to ensure star attendance. That brings the glamour, prestige and press coverage to create buzz and drive ticket sales, all of which keep sponsors happy.
It is a symbiotic relationship. Hollywood in turn relies on festivals to kickstart campaigns on awards contenders and upcoming releases, and publicity executives like the convenience of doing a lot of press in one place with journalists from around the globe.
Sources said the challenge facing festival heads now is to convince studios and streamers to still bring their films to their events.
Directors might be asked to do extra work promoting their films after Directors Guild Of America agreed to a new three-year contract with the Hollywood companies last month.
With awards season looming on the horizon strategists said they were taking stock and much depended on how long the strikes will last – something nobody can predict.
SAG-AFTRA strike rules appear below.
STRIKE NOTICE AND ORDER
To All Members of SAG-AFTRA:
The National Board has declared a strike of all covered services under the Producer - SAG-AFTRA Codified Basic Agreement and SAG-AFTRA Television Agreements and their related agreements ("TV/Theatrical Contracts") and instructs all SAG-AFTRA members to cease rendering all services and performing all work covered by the TV/Theatrical Contracts. The strike extends to productions covered by any of the following agreements, effective at 12:01 AM Pacific Time, July 14, 2023:
● Producer-SAG-AFTRA Codified Basic Agreement
● SAG-AFTRA Television Agreement (includes New Media)
● SAG-AFTRA New Media Agreement for High Budget Original or Derivative Programs
● Special New Media Agreements
● Low Budget Theatrical Agreement (LBA)
● Moderate Low Budget Project Agreement (MPA)
● Ultra Low Budget Project Agreement (UPA).
Members may be able to work on projects produced by non-AMPTP-related production companies under these agreements if such projects qualify for an Interim Agreement. A list of projects adhered to an Interim Agreement will be posted at sagaftrastrike.org.
Except as set forth in the Notice to Members Regarding Non-Struck Work, ALL COVERED SERVICES AND PERFORMING WORK UNDER THE TV/THEATRICAL CONTRACTS MUST BE WITHHELD, including, but not limited to:
● Principal on camera work, such as:
○ Acting
○ Singing
○ Dancing
○ Performing stunts
○ Piloting on-camera aircraft
○ Puppeteering
○ Performance capture or motion capture work;
● Principal off camera work, such as:
○ ADR/Looping
○ TV Trailers (promos) and Theatrical Trailers
○ Voice Acting
○ Singing
○ Narration, including audio descriptive services except as the services may be covered by another collective bargaining agreement referred in the Notice to Members Regarding Non-Struck Work
○ Stunt coordinating and related services
● Background work
● Stand-in work
● Photo and/or body doubles
● Fittings, wardrobe tests, and makeup tests
● Rehearsals and camera tests
● Scanning
● Interviews and auditions (including via self-tape)
● Promotion of/publicity services for work under the TV/Theatrical Contracts, such as:
○ Tours
○ Personal appearances
○ Interviews
○ Conventions
○ Fan expos
○ Festivals
○ For your consideration events
○ Panels
○ Premieres/screenings
○ Award shows
○ Junkets
○ Podcast appearances
○ Social media
○ Studio showcases
● Negotiating and/or entering into and/or consenting to:
○ An agreement to perform covered services in the future
○ Any new agreement related to merchandising connected to a covered project
○ The creation and use of digital replicas, including through the reuse of prior work
● Performing on a trailer for a struck production or other ancillary content connected to a struck production
*To ensure compliance with the rule to withhold all covered services, members who are also employed in non-performing capacities should consult with SAG-AFTRA by emailing SAGAFTRAstrike@sagaftra.org. To the extent prohibited under applicable law, SAG-AFTRA will not discipline members for purely non-covered work done in other non-performing capacities.
In addition to the withholding of all covered services, the following rules shall apply for the duration of the strike:
1. Members must not cross SAG-AFTRA picket lines, subject to the exceptions outlined in SAG-AFTRA's Notice Regarding Non-Struck Work.
2. Members must instruct their agent and/or other representatives to discontinue conducting negotiations on their behalf with the studios, streamers and networks for covered services.
3. Members must inform SAG-AFTRA of all strikebreaking activity by emailing SAGAFTRAstrike@sagaftra.org.
4. Members are also bound by any rules or interpretations set forth in the FAQs relating to this Strike Notice and Order. FAQs will be available shortly at https://www.sagaftrastrike.org/member-faqs.
NOTICE TO NON-MEMBERS: Any non-member seeking future membership in SAG-AFTRA who performs covered services for a struck company during the strike will not be admitted into membership in SAG-AFTRA.
IMPORTANT REMINDERS TO MEMBERS:
As always, our members are bound by Global Rule One, which states that, "No member shall render any services or make an agreement to perform services for any employer who has not executed a basic minimum agreement with the union, which is in full force and effect, in any jurisdiction in which there is a SAG-AFTRA national collective bargaining agreement in place. This provision applies worldwide."
In addition, any member that disregards this strike order shall be subject to discipline consistent with the SAG-AFTRA Constitution and the SAG-AFTRA Membership Rules, including but not limited to Rule 1(A), which provides, "No member shall render any services, or make an agreement to perform services, for any employer against whom the Union is conducting a strike, nor shall any member otherwise violate any strike order of the Union.