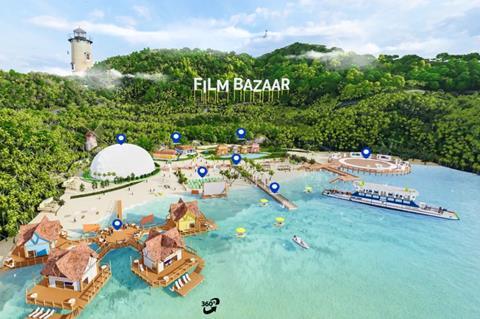 While India's economy is recovering, cinemas reopening and the streaming business booming, as the devastating second wave of the pandemic recedes, this year's edition of Film Bazaar Online (November 20-25) highlighted the precarious position of Indian and South Asian independent cinema in the post-Covid landscape.
Speakers on several panels during Film Bazaar's Knowledge Series talked about the usual indie filmmaker headaches of accessing funding and distribution, as well as the need for further training in areas such as animation and VFX, but many of these issues appear to have been exacerbated by the pandemic.
On a panel with producers and directors from across South Asia, Sri Lankan producer Rasitha Jinasena said the number of cinemas in his country has declined from 180 to just 80 during the pandemic. And while streaming platforms initially gave a boost to the market, they are now more focused on mainstream Hindi films. "If we could have more co-productions between South Asian countries, we could increase budgets and attract a bigger audience," Jinasena said.
Nepali filmmaker Deepak Rauniyar (White Sun) and Bhutan's Dechen Roder (Honeygiver Among The Dogs) both described the irony of arthouse filmmaking in their countries, which can only be funded by foreign co-producers, but as their films are being made for international arthouse audiences, often end up being more expensive than local mainstream films. At home, it's impossible to recoup from a theatrical release.
"We don't have any distribution in place; we market our own films, as there's not enough revenue to have middlemen involved," explained Roder, who sells tickets to her own films and chats with the audience after screenings. "We should have more links between South Asian countries, either online platforms or film festivals. Southeast Asia has a lot of initiatives and groups that are supporting cinema, but we still don't have a distinct identity as a film region."
A panel entitled 'Forging paths for wider reach – local going global' looked at the problems of international distribution for Indian indies. While Indian films are regularly selected for festivals (this year Tamil drama Pebbles won the Tiger Award in Rotterdam and Aditya Vikram Sengupta's Once Upon A Time In Calcutta premiered in Venice) very few are achieving wide international distribution.
Pan Nalin, one of the few filmmakers to buck the trend with films such as Samsara (2001) – and this year with Last Film Show, which sold to Italy's Medusa and Japan's Shochiku – compared the situation in India to France, with its support systems for funding, distribution and film education. "UniFrance is helping French filmmakers attend festivals and hosts festivals of French cinema across the world," Nalin said. "A system is required [in India], but today we still don't have one, so we're all just in our little corner doing our own thing."
While India has been moving up the value chain in terms of creating its own animation IPs, speakers on a panel about the animation and VFX industries said there is still work to be done in areas such as training, international promotion, tax breaks to attract international production, and developing animation tools locally rather than relying on software and hardware from overseas.
"There's a lot of Indian talent working in the US, but the talent in India nobody is even looking at," said Saraswathi 'Vani' Balgam, who worked at DreamWorks Animation before launching Dancing Atoms in Los Angeles and Mumbai. The panel's moderator, Whistling Woods International's Chaitanya Chinchlikar, noted that out of his school's 200 plus animation graduates, 160 are now working overseas.
"We have lots of filmmakers here, but there are no grants or funding, so for each project you have to find a producer and start the whole process all over again," said Charuvi Agrawal, whose animated series The Legend Of Hanuman has been a hit on Disney+ Hotstar. "We need a support system from the government. India has talent but education is missing, so most of the time I have to train my own teams."
In addition to Knowledge Series, this year's Film Bazaar featured a series of sessions entitled 'Meet The Professionals', offering access to Indian and international producers, sales agents, funders and festival programmers. All the sessions and core programmes were accessed through a 3D virtual platform, designed to replicate Film Bazaar's usual beachside setting in Goa.
As in previous years, the annual event's core programmes included the Viewing Room and Film Bazaar Recommends, Co-production Market (CPM), Works-in-Progress (WIP) Lab, Screenwriters Lab and Industry Screenings. Other programmes included Locarno Industry Academy and Screenwriters Zone, as well as a Marathi Scripting Camp, focusing on Marathi-language projects. Film Bazaar wraps this evening with an awards ceremony for the CPM and WIP Lab projects.