Financiers include Universal, Hanway, 42 M&P, Metrodome, The Works and Wild Bunch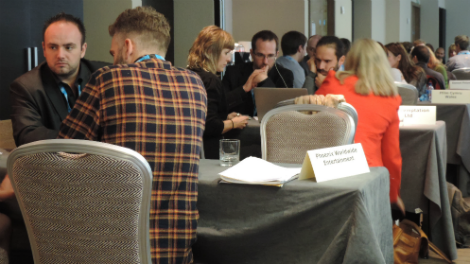 Some 23 filmmaking teams are set to connect with investors at this year's Film London Micro Market.
Micro Market is for feature projects budgeted at under €1m ($1.1) and is supported by Creative Skillset, complementing the Film London Production Finance Market at the BFI London Film Festival.
A total of 17 UK projects will be joined by six international projects from Sweden, Ireland, Norway, Israel, Italy and Indonesia - the last being a project which has come out of Microschool International, the training bootcamp Film London held earlier this year.
Previous features to secure finance and partnerships following Micro Market include Await Further Instructions, Moon Dog, Departure, Dartmoor Killing and Notes on Blindness.
The 23 financiers hoping to pick up features from breakthrough talent include Universal, HanWay, 42, Metrodome and The Works, with international delegates from Wild Bunch, Back Up, Le Bureau and Cocinelle.
This year the Market's keynote speech will be delivered by producer Rory Aitken whose credits include Shifty, Welcome to the Punch, Monsters: Dark Continent and the upcoming Collide, starring Nicholas Hoult.
Along with the chance to pitch their features to potential financiers, Micro Market includes sessions on the perfect pitch, finance plans, negotiation, deal-making and alternative sources of finance. Training begins today at London's Wellcome Centre.
The training includes a special edition of Market Place Live: Film London and Creative Skillset's panel event in which producers, sales agents, financiers and distributors guide a hypothetical film from development to distribution. Confirmed panellists include BFI Film Fund director Ben Roberts, producer Jennifer Handorf and Phil Hunt of Bankside Films.
Market Place Live takes place at Picturehouse Central on Oct 13 and is open to all BFI London Film Festival industry delegates.
Micro Market 2015 projects
Abigail Falls (Elfin Productions (UK)/Puella Films (US))
All the Way From Over There (Tunnel Films)
An Evening With Donald Kempinski (104 Films)
Daphne (The Bureau)
Dear John… (Chinema Film Sweden AB)
Divorce Party (Fox Cub Films)
Dogs Aren't Cats (Knapp Ridge Films)
Fatima's Journey (Big Face Art Ltd/Journey Films)
Kids & Kings (Gaudeamus Productions)
Malevolent (Pencil Trick Productions/Genesis Flux)
Mine is the Revenge (Picture Show srl)
Nexus (Nexusfilm Ltd)
Night Bus (PT Sinathrya Ninety Nine Cinema)
Normal Love (65 Wilding Films)
Nowhere (Park Road Pictures)
Reconstructing Utøya (Vilda Bomben Film AB)
Singing Lessons (Vennerfilms)
Song of Granite (Roads Entertainment)
The Man From UNKLE (Capture)
The Saviours (Up Helly Aa Ltd)
The Well (Vox Pictures)
Where Do I Begin (Hazey Jane Films)
Wrong Planet (Porcupine Pictures Ltd).
This year's Micro Market financiers are: 42, Backup Media, Coccinelle Film Placement, Creative England, Dogwoof, elevenfiftyfive, Ffilm Cymru Wales, HanWay Films, Head Gear Films, Ingenious, Irish Film Board (Bord Sacnnán na héireann), Le Bureau, Metrodome Distribution Ltd, Picturehouse/Picturehouse Entertainment, Pulse Films, Saffery Champness, Soda Pictures, Tate Post, The Works Film Group, Universal Pictures Home Entertainment Content Group, Vertigo Releasing Ltd, We Are Colony and Wild Bunch.