Laurie Simmons' debut feature premiered at last year's Venice Film Festival.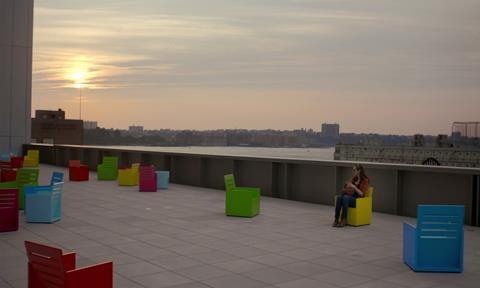 Film Movement has acquired US rights to Laurie Simmons' My Art and will open the film theatrically next winter, followed by a digital and home video release.
The film centres on New York City artist Ellie, who is looking to gain inspiration and tranquility as she housesits for a friend in upstate New York.
Accompanied by her lovable handicapped dog, Bing, Ellie comes of age — middle age — in her new surroundings. She turns the adjoining barn into her new workplace, staging elaborate recreations of classic movie scenes.
The film stars Simmons, who also wrote the script, as well as Josh Safdie, Parker Posey, Robert Clohessy, and John Rothman.
Premiering at the 2016 Venice Film Festival and the 2017 Tribeca Film Festival in North America, the comedy-drama also features Barbara Sukowa, Blair Brown, and Simmons' daughter, Lena Dunham.
Simmons commented: "Film Movement is the perfect fit for us to build on and expand our fan base"
Producer Andrew Fierberg said: "After screening in Venice and Tribeca the entire My Art team is thrilled to be working with Film Movement!"
Caroline Habib, director of Mongrel International, said: "Laurie Simmons directed a refreshing, sweet and honest gem with My Art. We couldn't be happier that the film connected with Michael and his fantastic team!"
Michael E Rosenberg, president of Film Movement, added: "Laurie Simmons is indeed a true artist, as both My Art and the pieces her character creates in the film are sublime, charming, and inspiring. We are excited to be releasing her film in the US"
Rosenberg finalised the negotiations with Habib.