EXCLUSIVE: Stylish, steamy and very French, Garrel's new feature explores his trademark theme of relationships.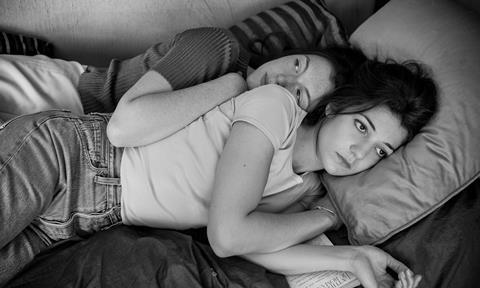 Screen can reveal a first English-language version of the teaser for Lover For A Day, through French producer Saïd Ben Saïd's Paris-based production and distribution house SBS, which is also handling international sales.
Watch below, or on mobile HERE.
Philippe Garrel may be one of the only representatives of the French New Wave, alongside Agnès Varda, in Cannes this year as the festival marks its 70th anniversary, unless Jean-Luc Godard puts in a real-life appearance which is unlikely.
Garrel will not be premiering his latest work Lover For A Day in Official Selection, however, but rather Directors' Fortnight.
The director, 69, has been a regular guest at the parallel section ever since attending its first edition in 1969 when it launched as a rebellious counterpoint to the main festival following the student and workers revolt of 1968.
Set in contemporary Paris and shot in Garrel's trademark black-and-white style, the film tackles the director's life-long theme of relationships, their complications and what makes them tick or fail.
Esther Garrel co-stars as a woman in her 20s who returns home after the breakdown of a relationship to discover her father (Éric Caravaca) is dating a woman her age, played by newcomer Louise Chevillotte.
It is actress Garrel's second collaboration with her father after Jealousy in which she had a role as the young daughter of an actor, played by her brother Louis Garrel, who leaves his family for another woman.
The director was last in Cannes in 2015 with In The Shadow of Women which opened Directors' Fortnight.
This Cannes will be very much a Garrel family affair. Louis Garrel will also be hitting the Croisette in the role of Jean-Luc Godard in Michel Hazanavicius's Redoubtable capturing the revolutionary period of the film-maker, who was a source of inspiration for Garrel.
Read more:
Cannes 2017: Directors' Fortnight line-up
Cannes 2017: Official Selection in full
Cannes 2017: Critics' Week line-up