Traineeships in film exhibition, distribution and international sales led to employment for more than 50% of participants.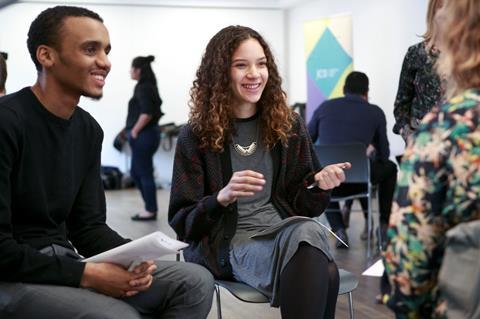 A new UK scheme to develop the next generation of exhibitors, distributors and international sales professionals has ended its first cycle with more than half of the 15 trainees already securing further work in the film industry.
The FEDS (Film Exhibition, Distribution and Sales) Trainee Scheme was funded by Creative Skillset and run by the Independent Cinema Office, in partnership with the Film Distributors' Association, Film Export UK and with the support of the BFI.
The scheme prioritised candidates from underrepresented groups in the film industry, including people from Black, Asian and Minority Ethnic backgrounds and a high proportion of women. A total of 370 applications were received from across the UK.
Over nine months, the trainees received on-the-job training at their host companies, and were paid the equivalent of London Living Wage, as well as taking part in intensive industry information sessions to enhance their knowledge and broaden their networks.
Many of the candidates, including trainees at Dogwoof, Altitude, Broadway Cinema in Nottingham, eOne and Verve Pictures, have been offered roles at their original host company.
Others have used their experience to move into new organisations in the industry.
The ICO is currently accepting expressions of interest from UK exhibition organisations interested in hosting a trainee next year, with placements scheduled to run from March - December 2016 (email training@independentcinemaoffice.org.uk to receive full details).
Creative Skillset's Rebecca Davies added: "Creative Skillset's workforce survey earlier this year identified that there were significant issues in the film sector.
"Currently only 5.4% of the creative industry's workforce are from BAME backgrounds. Our research shows that structured traineeships are one of the best ways to address these issues, and we're delighted that the ICO, FDA and Film Export UK answered our call to deliver this training and that it has already proved to lead to ongoing employment for a majority of trainees."
ICO director Catharine Des Forges said: "In the last year, the conversation around diversity has become louder and more proactive. At the ICO, we're really happy to have made contributions to diversity in the exhibition sector, whether via our 'D Word' Screening Day or Women's Leadership programme."
Caroline Hennigan, programme director at Nottingham's Broadway Cinema said: "This type of scheme is really important because it demonstrates practically that diversifying the film industry workforce is good for business."
FEDS trainee Delphine Lievens, who is continuing her employment at Altitude Film Sales, said of her experience: "I think FEDS has been a really good starting point for me in my career and hopefully a much needed first step on the ladder. It's been an invaluable opportunity to get an entry level job in the industry, which are few and far between."