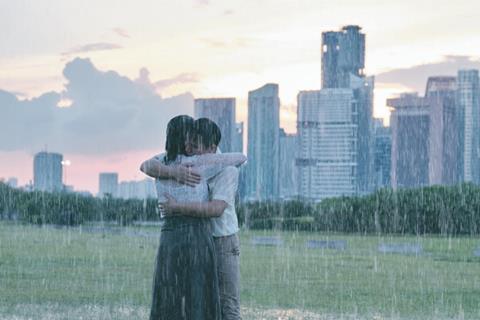 Screen can reveal a first look of Singaporean filmmaker Anthony Chen's new film Wet Season.
It is Chen's long-awaited second feature following his Cannes Camera d'Or winner Ilo Ilo, Malaysian actress Yeo Yann Yann, who also appeared in Ilo Ilo, stars as a Chinese language teacher whose home and work lives are coming apart at the seams as she struggles to conceive a child. Comfort arrives in the shape of an unlikely friendship with a young student played by Koh Jia Ler – the young boy in Ilo Ilo – which helps her reaffirm her identity as a woman.
"I'm delighted to reunite with my actors from Ilo Ilo," said Chen. "This film is a delicate portrait of a woman on a journey to rediscover herself."
Paris-based sales company Memento Film International (MFI) has released a first image of the film as launches sales at the EFM. Now in post-production, it will ready for a potential Cannes berth.
"It's going to be a beautiful film as you can see from gorgeous still," says MFI sales chief Tanja Meissner.
Chen also takes producer credits alongside Huang Wenhong and Tan Si En, under their Giraffe Pictures banner.
UK cinematographer Sam Care, whose credits include Another Mother's Story and Couple In A Hole worked on the production alongside art director Soon Yong Chow, editors Hoping Chen and Joanne Cheong, and sound designers Kuo Li Chi and Zhe Wu.