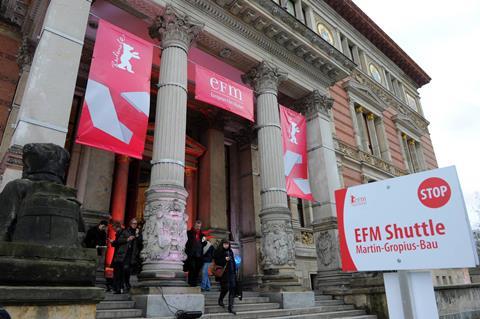 ROMA's 10 Oscar nominations haven't just got tongues wagging in the US. The consequences of a streaming platform orchestrating high-profile theatrical releases in multiple territories has become a talking point in the international business, where the debate over the traditional distribution model continues to rage.
Despite the proximity this year of Sundance and Berlin, which has made it hard for sellers to acquire titles in Park City and prepare materials and screenings for the EFM, there is a cautious optimism heading into the market after last year's AFM bucked the trend of prior 'down' markets. Nobody is under any illusion, however: the beloved theatrical independents are in the fight of their lives to assert their relevance and viability in the face of game-changing streaming platforms, not to mention studios with global distribution pipelines.
The streamers were out in force in Sundance. Amazon Studios paid more than $46m combined at time of writing on Late Night, The Report, Brittany Runs A Marathon, Honey Boy, and One Child Nation, while Apple made its first buy on Hala, and Hulu partnered with NEON on comedy-horror Little Monsters. NEON was active, picking up thriller The Lodge, Colombian survival thriller Monos, and partnering with Topic Studios on the drama Luce.
Yet one name continues to dominate the conversation. Netflix's exhibition partners put ROMA in theatres prior to the global streaming launch last December, and by some estimates has spent $25m on the awards campaign — considerably more than its rivals. Alfonso Cuaron wanted reach and kudos and he got both.
Billboards were plastered across Hollywood, Mexico and other regions. Some exhibitors in the US and Latin America griped over the limited theatrical run, but the perception of omnipresence shaped the awards season conversation: ROMA is a front-runner for the Academy's best picture award.
The streaming giant shows no sign of restraint, so the question becomes who is next in line for the lavish theatrical uplift treatment. Martin Scorsese must surely be demanding it for The Irishman, as will others. Already tricky conversations between international sales agents and longtime international distribution partners over access to desirable, expensive packages and talent just got trickier.
Sellers may well face additional pressure from their producer and financier clients to target a worldwide deal with Netflix, which not only offers the prospect of full recoupment, but in some cases will now come with the possibility of a prestigious awards campaign.
Conversations between sales agents and the likes of Netflix, Amazon Studios and Hulu are commonplace. Yet there is a stated desire among the sellers to support the independent buyers. With no TV market to sell into these days, the independents struggle to compete with the streamers and slick studio operations for pricey content, yet their successes count for a lot too. Everybody, for example, is rooting for Victor Hadida and his team to go from strength to strength at Metropolitan following the shock death of Sammy Hadida last November.
"The streaming services have become customers of ours as well," says Film­Nation founder Glen Basner. "It will make sense to sell to a streamer on some films, to the major studios with others, as well as creating films for independent distributors. Our focus has been to supply everybody with quality movies and we're looking to match up content in the best way with our diversified slate."
Basner and his team licensed the all-female spy thriller package 355 to international buyers in Cannes last year, and more recently sold out George Miller's genre film Three Thousand Years Of Longing to the independents at AFM. In Berlin FilmNation will launch international sales on the sci-fi drama Reminiscence with Hugh Jackman and Rebecca Ferguson, on which Westworld co-creator Lisa Joy will make her feature directorial debut. Endeavor Content handles US rights.
Basner says independents will step up for the big-ticket items if a project is special. "It's all about value proposition," he says. "We believe that independent distributors need these tentpole movies more than ever. Indie distributors are nervous about pre-buying, but if they don't pre-buy and the film turns out great, they cannot compete with the studios and streamers [to buy a completed film] and will lose out. It's the only way you're going to have access to the best films."
European downturn
Complicating matters is the downward trend at the European box office in 2018. Germany and France experienced drops and, while the UK did not, distributors have been extremely cautious in the last few years. The three territories have traditionally been the bedrock of independent film financing and it becomes very hard to finance a project with pre-sales if a sales agent cannot secure at least two out of the three.
The UK Parliament's rejection of prime minister Theresa May's Brexit plan ahead of the country's departure from the EU on March 29 compounds problems and makes for a potentially calamitous trade outlook that will inevitably have a trickle-down effect on the independent business. Faced with the prospect of a 'no-deal' Brexit, business is voting with its feet. London is estimated to be losing $700bn in assets to Frankfurt as banks transfer business to the rival German hub, while Sony is relocating its European headquarters to Amsterdam, Airbus has threatened to end its UK operations.
This week it emerged Nissan is dropping plans to manufacture a new model of its flagship X-Trail at its UK plant in Sunderland, although in fairness much of that decision may also have to do with a decline in the European diesel car market.
The Exchange CEO Brian O'Shea notes the challenge of diminishing box-office returns in Europe. But when asked if that means distributors from those territories will eschew pre-buys, he is clear. "No. If you have an element or elements that are truly theatrical, then everyone wants your film," says O'Shea, whose Drew Barrymore romcom The Stand-In has just gone into production. "This element can be a star, a meaningful US theatrical commitment, a director, a great script, or IP that has global recognition. When you have something theatrical in the market, it can be very exciting."
"Everyone's cautiously optimistic," notes Voltage Pictures president and COO Jonathan Deckter. "Last year was a banner year for us. We had I Feel Pretty, which did $95m worldwide and half of that was international on a female-driven comedy, so kudos to our international partners."
Voltage has potential young-adult franchise starter After in post, which Aviron Pictures will release in the US on April 12, and Sundance world premiere Extremely Wicked, Shockingly Evil, And Vile starring Zac Efron as serial killer Ted Bundy. At time of writing Netflix was reportedly closing a deal for US and select territories in the $8-9m range.
New players
Besides the growth of streaming platforms, there are at least two significant new players geared towards the traditional independent space. David Glasser, former president and COO of The Weinstein Company, returns to the fray with 101 Studios, backed to the tune of $300m by an investor group led by billionaire Ron Burkle. Glasser flies into Berlin from Sundance, where he was hunting for US acquisitions, with longtime international sales chief Ennis Hensley.
Mark Gill's Solstice Studios, with some $400m in backing from the UK's Ingenious Media and a private US fund, is also in the US distribution and international sales game. Former Millennium Media president Gill likes commercial fare such as The Hitman's Bodyguard and London Has Fallen, and the company will be looking for action movies, thrillers, sci-fi and romances with universal appeal.
Gill hired former Lionsgate International senior executive Crystal Bourbeau to head his international operation as well as US acquisitions and co-productions. While no new sales titles are expected, Bourbeau will be in Berlin looking for US acquisitions.
"We're in an exciting time and we feel film is alive, but we have to be careful about volume and what these budgets look like," says Bourbeau. "Buyers are hungry for films, but the right films. Commercial films in the right genre." No doubt keen to avoid the fate of short-lived Global Road, Solstice wants to be disciplined about volume, budget and overheads. It plans to produce three-to-five films in the $30m-$80m range per year and will mount wide release campaigns. On the international side, Bourbeau tells Screen International that output deals are not a cornerstone of the model, although the company is open to strategic partnerships. "Each film should be able to stand on its own merit and we're not in the volume business," she notes.
Already high on US buyers' lists is Casey Affleck's feature directorial debut and Panorama selection Light Of My Life, a post-apocalyptic father-daughter story. Sierra/Affinity handles international and Endeavor Content will be in Berlin representing US rights. The bigger market titles include Lionsgate's Rian Johnson-Daniel Craig murder mystery Knives Out, IMR International's paramedic drama Black Flies with Mel Gibson and Tye Sheridan, AGC International's Neil Burger (The Upside) sci-fi Voyagers, and Jason Clarke and Nick Robinson true-crime drama Silk Road, which Sierra/Affinity sells for international.
"It feels like there's going to be more exciting films screening at the festival," says Sierra/Affinity head of international sales and distribution Jonathan Kier, "and it's a big deal because it's Dieter's [Kosslick] final year running the festival." After a sensational Toronto, Kier is quietly upbeat. "AFM 2018 seemed to be a time when things were settling down and Berlin looks full of opportunity for buyers and sellers," he says. "There's going to be a lot of finished films and some new buyers [for US rights]."
Netflix and its streaming peers will be among those taking a look at everything on offer. Gregory Chambet of WTFilms notes there is room for engagement as the platform shifts its focus to more original and local content. "We still talk [to Netflix] about acquiring worldwide rights on movies if it makes sense, but at the same time we're working more closely with the local team to find out what they're looking for in France."
EFM has been kind to WTFilms, which has done good sales in recent years on thriller The Eavesdropper and zombie film The Night Eats The World. That said, Chambet says that more than ever the onus is on sellers to bring distinctive material. "There's no middle ground — either [something] sells really well or it doesn't sell at all."