Coureur won the events best project pitch, while Cloudboy triumphed in the Works In Progress strand.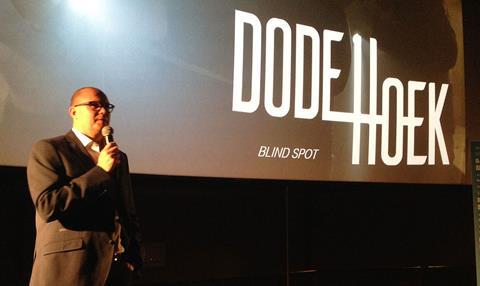 Organisers of the inaugural NeXT event in Ghent, hosted by Flanders Image, intend to re-stage the event in 2017 following positive feedback from industry at this year's programme.
NeXT welcomed international industry guests – including festival programmers, distributors and sales executives – to meet with Belgian producers and distributors, view finished Flemish films, and listen to pitches of projects in development or presentations of works in progress.
There were eight projects in development pitched, with an international jury selecting Coureur as best pitch. In the Works In Progress, the jury picked Cloudboy as the winner of the 13 films in post-production.
Finished films screening included Fien Troch's Home, Peter Monsaert's Le Ciel Flamand, Bavo Defurne's Souvenir, Christophe Van Rompaey's Vincent And The End of the World, and Nic Balthazar's Everybody Happy.
Peter Bouckaert [pictured] of leading Belgian producer Eyeworks pitched Stijn Coninx's Don't Shoot and presented Nabil Ben Yadir's Dode Hoek and Jan Verheyen's Double Face as works in progress.
Bouckaert told Screen that he got "good feedback" on the projects and met useful contacts to follow-up with. "It's the right event at the right moment, well done by Flanders Image, and outstanding taking into account that it was the first edition," he said.
Nathan Fischer, head of Paris-based sales company Stray Dogs, added: "NeXT really is a very useful and efficient one-stop shop for Flanders cinema where you casually meet all the producers, projects, films in post and festival favorites of the year in a couple of days only. This region has demonstrated it was producing some of the best, most modern and gritty European talent over the last five years and I'll come back for sure."
Todd Hitchcock, director of programming for the AFI Silver Theatre and Cultural Center, was one of the visitors who made the longer trip from North American to visit NeXT — others included Toronto's Kerri Craddock, SXSW's Jim Kolmar, Palm Springs' Alissa Simon, Cleveland's Bill Guentzler, and Cinequest's Michael Rabehl.
"It was super useful to me for getting caught up on the current slate of films and also to take a look ahead at what's coming for 2017," Hitchcock said. "The works-in-progress presentation was particularly well-done and it looks like 2017 promises to be a very strong year for Belgian films. There was a good mix between commercial-minded action-thrillers and more dramatic festival fare on display, with new films from established names like Michael Roskam, Jan Verheyen and Erik van Looy as well as several relative newcomers."
Christian de Schutter, head of Flanders Image, was pleased with the first year of NeXT. "We got lots of positive feedback from our foreign guests as well as from our local filmmakers and producers. Besides being a showcase of recent, new and future productions, our aim was also to bring our filmmakers and producers together with festival curators, sales agents and buyers, to be confronted with these people and their market savvy, and to get their feedback. I believe we succeeded in this, and we've already got plenty of ideas and also received some suggestions to further improve (but also expand) the initiative."
Screen International was a media partner on the event.