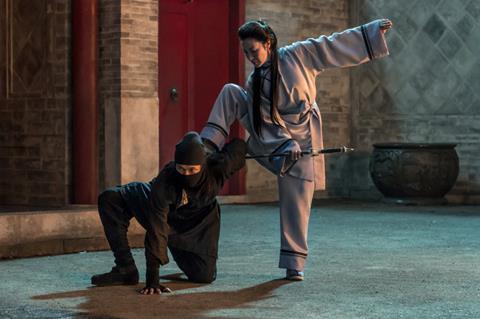 Bey Logan, the Hong Kong-based executive who previously worked for The Weinstein Company, has issued multiple statements after he was accused of sexual misconduct.
According to a report in Hong Kong outlet HK01, the British-born Logan sexually harassed several women and sent one to Weinstein's hotel room where an "unpleasant encounter" took place.
One of the women mentioned in the report – actress Sable Yu – alleges that Logan regularly made her feel uncomfortable by inspecting her weight during the filming of movie Snowblade (2012).
She also alleges that he tweaked her nipple in front of the whole crew on set and exposed himself to her.
Logan worked at The Weinstein Company from 2005 to 2009 as Asia VP, and also co-produced TWC/Netflix project Crouching Tiger, Hidden Dragon: The Sword Of Destiny in 2016.
Statements
Responding to HK01, Logan said the complaints were "things that I tried to do, rather than anything that actually happened."
He described Yu as "crazy", adding: "I had consensual relationships with girls who perhaps fell in love with me and, you know, I wasn't being serious, that kind of thing, which I think is quite common".
In a subsequent statement, Logan admitted: "I have had a too carefree attitude towards physical encounters with women."
He adds that he "regrets any action… [that] could have caused distress to anyone", but commented that "many of the accusations made against me are either untrue or taken out of context."
Regarding Sable Yu, he said Snowblade was a "Japanese genre inspired film involving martial arts, violence and nudity", and that candidates for the film had to be "good at acting, martial arts and comfortable with nudity."
He has since released another statement (see below) on Facebook, which says: "At the time when the reporter confronted me, I was shocked and uttered responses off the record which come across as defiant and defensive. I apologise for the same."
"I have given my written statement and take this opportunity to express my regret for the hurt and embarrassment caused to my family and friends. My wife and I have separated."
Martial arts expert Logan moved to Hong Kong from Britain in 1994. After joining The Weinstein company in 2005 he worked on many of the their Asian-themed films, including The Forbidden Kingdom (2008) and Shanghai (2010). In 2009 Logan founded Hong Kong-based multi-media company B&E Productions.