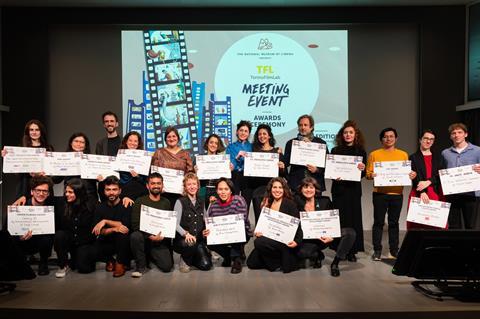 Co-production market TFL Meeting Event has awarded prizes worth €315,000 to projects that took part in TorinoFilmLab's annual ScriptLab and FeatureLab programmes.
30 projects were pitched over two days at the TFL Meeting Event in Turin - 20 titles from TFL's nine-month scriptwriting programme ScriptLab and another 10 from its FeatureLab strand for films at a more advanced stage.
Four FeatureLab projects were selected by an international jury as winners of the TFL Production Awards, sharing a total of €160,000: Inbar Horesh's Birth Right, Prantik Basu's Dengue, Konstantinos Antonopoulos' Glory B and Sara Fgaier's Weightless.
Produced by Alona Refua at Tel Aviv-based Green Productions, Birth Right is about a young girl from Warsaw who, mourning her father's death, joins a tour to Israel that turns out to be a sex-filled Zionist propaganda trip.
India-set project Dengue is produced by Tanaji Dasgupta at Calcutta-based Riverine Films, and is about a chance encounter in pouring rain that leads two unlikely men to find love.
Historical drama Glory B is produced through Greece's Either/Or Productions, and tells the story of a dethroned Byzantine emperor, Justinian, and a humble beekeeper as they try to escape the desert island they have shipwrecked on. It is written and directed by Konstantinos Antonopoulos, with co-writer Luigi Campi. The producer is Fani Skartouli. The project recently secured €200,000 in funding from the Greek Film Centre.
Italian project Weightless, about a professor battling a sudden onset of amnesia and the deceptions of memory, is written and directed by Sara Fgaier and produced by Marco Alessi through Dugong Films.
TFL programmes co-ordinator Angelica Cantisani told Screen that this year's event was back to having the same amount of guests as it did before the Covid-19 pandemic. 260 industry professionals attended the pitches, which were followed by 630 meetings between the project participants and 140 potential co-producers and partners.
The Post-Production Award, for former ScriptLab and FeatureLab projects currently at an advanced stage of development or financing, went to Elena Stanisheva producer of The Sweet Bitterness Of Ripe Pomegranates (ScriptLab 2019).
Meanwhile, the TFL Co-Production Fund 2022, worth €50,000 went to Viet and Nam by Minh Quý Trương (Vietnam) and produced by Scarlet Visions (Germany).
TorinoFilmLab is organised by The National Museum of Cinema, with the support of Creative Europe - MEDIA Subprogramme of the European Union, MiC Ministero della Cultura, Regione Piemonte and Città di Torino.
Partner TFL prizes
The Eurimages Co-production Development Award (€ 20,000)
Sealskin
Writer & Dir: Irene Moray (ScriptLab)
Eurimages Special Co-production Development Award (€ 20,000)
Warrior
Writer & Dir: Masha Kondakova (ScriptLab)
CNC Award (€ 8,000)
The Boy And The Fight Of Spiders
Writer & Dir: Jarell Serencio (ScriptLab)
ARRI Award (€10,000)
Al Fondo A La Derecha
Writer & Dir: Marta Hernaiz Pidal
Prod: Rosa Galguera Ortega (FeatureLab)
EWA Network Female Voices Award
Doruntina Basha, Bleach (ScriptLab)
Sub-ti Award
Al Fondo A La Derecha
Sub-ti Access Award
Burning Well
Writer & Dir: M.G. Evangelista
Prod: Karishma Dev Dube
Green Awards
TFL White Mirror
A Year Without Summer
Writer & Dir: Flurin Giger
Green Filming Award
Abitanti
Writer & Dir: Kerstin Neuwirth
Prod: Sophie Ahrens
Together with: Al Fondo A La Derecha, Glory B & Weightless.