First time France submits film by non-French national since 1977.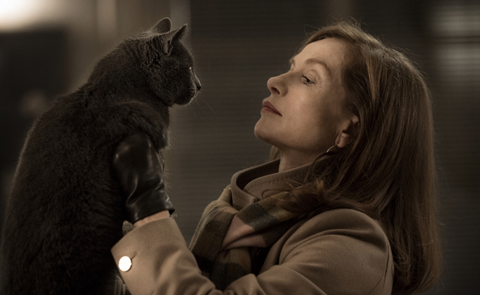 Dutch filmmaker Paul Verhoeven's revenge thriller Elle will represent France as the country's submission to the Best Foreign Language Film category at the 89th Academy Awards next year.
France's National Cinema Centre (CNC), which oversees the selection process, made the announcement on Monday (Sept 26).
Verhoeven's French-language debut stars Isabelle Huppert as a video game company boss who seeks revenge on a brutal rapist.
The film generated considerable buzz at Cannes, where it world premiered in Competition, for its subject matter and Huppert's strong performance.
It is the first time France has submitted a film by a non-French national since Israeli director Moshé Mizrahi's Madame Rosa, starring Simone Signoret as a retired prostitute, in 1977. It went on to win the Foreign Language category.
Verhoeven's films have been submitted for the Foreign Language category twice before, but for his native Netherlands.
His debut feature Turkish Delight made it through to the nomination stage in 1973, and more recently Black Book got through to the long-list stage in 2007.
His films have also be nominated several times in the technical categories.
Produced and sold internationally by Saïd Ben Saïd of SBS Productions, Elle is distributed by Sony Pictures Classics in the US.
SPC was already expected to campaign for a Best Actress nomination for Huppert, who many in the business feel is overdue recognition by the Academy of Motion Picture Arts and Sciences (AMPAS).
Short-list
The other three titles in the CNC's submission short-list included Danièle Thompson's art-world period drama Cézanne Et Moi and Anne Fontaine's convent drama The Innocents.
The other hot favourite, however, was François Ozon's black-and-white, First World War drama Frantz which world premiered at Venice to warm reviews.
Ozon, who was invited to become a member of AMPAS in 2015, has only ever been submitted to the Oscars once by France, for 8 Femmes in 2002.
France at the Oscars
This year's selection committee — presided over by CNC president Frédérique Bredin — comprised Cannes Film Festival chief Thierry Frémaux, Unifrance president Jean-Paul Salomé; former French publishing heavyweight Teresa Cremisi, who how heads up the CNC's advance-on-receipts commission; actress and director Sandrine Bonnaire, actress Léa Seydoux and director Eric Tolédano.
The last time France won the Oscar in the Best Foreign Language Film category was in 1993 with Régis Wagnier's Indochine starring Catherine Deneuve.
But the country still has a strong Oscar track record.
Michel Hazanavicius's silent black-and-white picture The Artist won five Academy Awards in 2012, including Best Picture (Thomas Langmann), Best Actor (Jean Dujardin) and Best Director.
Austrian director Michael Haneke's Amour, which won Best Foreign Language Film for Austria in 2013, was a co-production with France starring French veterans Jean-Louis Trintignant and Emmanuelle Riva.
Last year's submission Mustang — by Franco-Turkish director Deniz Gamze Erguven's – made it all the way to the final nomination short-list but lost out to front-runner Son Of Saul on the night.
The 89th Oscar ceremony will take place on February 26, 2017, at the Dolby Theatre in Hollywood.
French Oscar submissions of last five years:
2016 Mustang,

Deniz Gamze Ergüven's (nominated)

2015 Saint Laurent, Bertand Bonello (not nominated)
2014 Renoir, Gilles Bourdos (not nominated)
2013 Intouchables, Eric Toledano, Olivier Nakache (January short list, not nominated)
2012 Declaration Of War, Valérie Donzelli (not nominated)