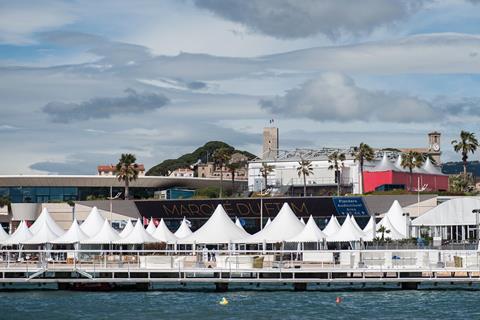 The French government on Sunday (8) announced new restrictions to limit the spread of coronavirus, banning gatherings of more than 1,000 people.
That is less than half the 2309 person capacity of the main Louis Lumière auditorium in Cannes' Palais des Festivals.
But in his announcement of the move, health minister Olivier Veran also said the government would draw up a list of gatherings that are "useful to the interest of the nation".
A spokesperson for France's ministry of solidarity and health told Screen on Monday morning that the minister had not announced an exact timeframe for the new restrictions and that the list of gatherings deemed "useful to the interest of the nation" was in the process of being drawn-up.
The move is bound to further fuel speculation on whether Cannes will be going ahead.
As late as Friday, the Festival and its Marché du Film were clear that they expect their 2020 editions, scheduled for May 12-23, to go ahead as planned in spite of the coronavirus outbreak.
A spokesperson at the festival reiterated once again on Monday that it was very much business as usual.
"There is nothing new on our side, the festival teams are at work," she said. "The management remains in contact with the [Alpes-Maritimes] Prefecture and will take all necessary measures to respect the legislation."
But jitters around whether the festival will take place, and whether to attend if it does, persist, especially following the eleventh-hour cancellation of SXSW over the weekend, which followed hot on the heels of MIPTV and the postponement of Filmart in Hong Kong.
Most French professionals, contacted by Screen prior to the SXSW news and the latest French announcement, still expect Cannes to proceed in some shape or form and are carrying on with their preparations for the event as normal.
"It can't not happen. It's only ever been cancelled once, in May '68," commented David Grumbach, president of Paris-based production, distribution and international sales company Bac Films.
"If the festival had been due to take place in two weeks' time, there would be cause for concern, but there are still two months. Perhaps, I'm too optimistic but I think that while March and April could be complicated, by May the situation will be in hand," he said.
Playtime co-chief Nicolas Brigaud-Robert echoed these sentiments, saying the company preferred "to wait and sit tight" for now.
"It's too early to start thinking about a contingency plan," said Brigaud-Robert. "We don't want to spend energy right now on things that at this moment are irrelevant. It's not that I'm dismissive of coronavirus; it's just a contingency plan is not a priority right now."
Some media outlets have suggested the festival and market would fall foul of a French government directive issued on February 29 banning "gatherings of more than 5,000 people in an enclosed space."
But both the festival and market said last week that they are not impacted by this measure because they never gather more than 5,000 people in one enclosed place at any one time.
The interpretation of what constitutes "an enclosed space" is, however, something of a grey area. The new directive has added further uncertainty.
A spokesperson for France's ministry of solidarity and health told Screen the final decision on whether the festival can go ahead rests with Bernard Gonzalez, the prefect for the Alpes-Maritimes department within which Cannes lies, and the city's mayor David Lisnard.
The Alpes-Maritimes prefecture did not respond to a request sent by Screen on Thursday (5) for clarification on its interpretation of the directive or on how it would arrive at a decision.
Given the economic implications of cancelling the festival – which pumps around $200m into the local economy each year – Gonzalez and Lisnard are unlikely to take the drastic measure of cancelling the festival unless in extremis.
"It's their responsibility," said the spokesperson. "It remains to be seen how the [coronavirus] situation evolves in the weeks to come. For now, no-one wants to move, but that could change two weeks from now."
"I think it could go higher than that," commented one French professional on who will ultimately decide Cannes's fate, implying that France's culture minister Franck Riester or even president Emmanuel Macron could get involved if it goes down to the line.
As of Sunday evening, there had been 1,126 confirmed cases of coronavirus and 19 related deaths in France.
Over the border in Italy, some 75km down the road from Cannes, the government took the decision on Saturday to place the entire northern regions of Lombardy and Veneto under quarantine until April 3, meaning no-one can enter or leave those areas for the next month. There had been 7,375 cases and 366 deaths in Italy as of Sunday evening.
Knock-on effect
It is hard to fathom the knock-on effect Cannes's cancellation would have on the international film business.
"It will have a major impact if Cannes doesn't take place and yes, we are already considering what to do, if that happens," said Susan Wendt, managing director of top Danish sales company Trust Nordisk.
She added the fall-out would be at both an international and local level. "For films that have an international potential, but lose their festival window, the local premiere might need to be postponed."
Egyptian producer Mohamed Hefzy, whose productions Yomeddine and Clash both debuted at the festival, said he feared there would be a glut of films running for late summer and early autumn festival slots if the festival were cancelled.
"It will be catastrophic for the film industry if it doesn't run," he said. "It will mean a backlog of films, and a lot of pressure on the available Venice slots, and of course Toronto. It will also mean no actual film sales are likely to take place until the fall."
"We don't have a contingency plan yet," Hefzy continued. "At this moment, I would like to think the world will be slightly safer come May. If it runs and we have films selected we would definitely go. If we don't, I still might just go for essential meetings, but I can't imagine missing it if the authorities in France and at the festival feel it's safe enough to hold the event."
Anna Krupnova, co-managing director of London-based sales company REASON8 Films, said she was not so worried for sales but suggested cancellation would have a bigger impact on development deals and for films with hopes of making it into Official Selection or one of the parallel sections.
"From the sales point of view, it's fairly easy to adapt if you have projects that are either completed or in post-production. People are taking virtual meetings. They are finding other ways.
"If we are talking about development meetings, that is a huge impact," said Krupnova. "You can't really hold those meetings with producers and directors over the phone; there's a different dynamic, it's something done more naturally face-to-face. And for films hoping to make it into selection that would also be huge as you only get one chance."
Krupnova questioned whether the festival could be pushed back to a later date.
But this does not appear to be an option. The city of Cannes and its Palais des Festivals is already booked up for most of June. Property market MIPIM, which was due to run from March 9-13, has just bagsied an early June 2-5 slot, while Cannes Lions is scheduled for June 22-26.
There is little appetite for running the festival over the summer holiday months of July and August, not least because it would eat into the tourist season. September would clash with Venice and Toronto. Any later is seen as being too close to the 2021 edition during the following May.
Charlie Bloye, CEO of trade body Film Export UK (FEUK), said the Cannes situation was proving a conundrum for its members.
"In terms of Film Export UK as a trade body, we've obviously already had to deal with the cancellation of Filmart where we normally have an umbrella stand," he said.
"The question now over Cannes is extremely worrying and people are having to make the same calculations as they did about Filmart but for a far, far bigger event," he continued. "They're thinking very carefully about the looming deadlines for committing funds for launching films at Cannes. They're looking at apartments, screenings and hiring PRs and so on."
Who will turn-up?
Beyond the question of whether the festival and market will go ahead, there is also the issue of who will turn up if it does.
French professionals seem committed to attending whatever format the festival and market takes, especially as most of them have already booked and paid for their accommodation and travel.
"We'll be there, whatever happens," said Grumbach.
"I'm not planning to change my way of working, I don't want to let down the producers and directors I represent," said Virginie Devesa of French sales boutique Alpha Violet.
Grumbach acknowledged that attendance numbers will likely fall but believes the key players will still make the journey to Cannes.
"Those without compelling business reasons to attend will probably stay away, but the key players will turn up. There could be 80% less attendance but 80% of the people who matter will still be there… the top 100 producers, the top 100 sales companies, the top 100 buyers," he said.
Bloye said questions over who will attend were a major cause for concern for FEUK's members.
"Sales agents will walk through fire to get a deal but there must be a buyer on the other side. The big question if Cannes goes ahead is will there be a buyer on the other side?" he said. "As one of our members said, "Cannes is too big to get wrong, too expensive to get wrong.' Even if there isn't an official cancellation, they will be tracking the intentions of buyers very carefully.
"We know that some of the big companies, especially American companies, are cancelling travel plans for all their staff. Certain noises I am getting from Asia suggest they already feel they are over the hump although that seems odd to us as it feels we are right in the eye of the storm."
No US-based international sales agents or major Hollywood agencies canvassed by Screen wanted to go on the record about their Cannes plans while they monitor the situation.
CAA has imposed travel restrictions on its staff and has urged employees to take part in virtual, rather than face-to-face, meetings. It is understood that several high-level US players who traditionally use Cannes as launch-pad for their big packages are in talks with the leading Hollywood agencies about setting up a virtual market, possibly using teleconferencing technology and existing platforms to communicate with necessary parties amid the coronavirus scare.
The long-term coronavirus legacy
Looking beyond the question of whether this year's Cannes Film Festival will go ahead or not and who will attend if it does, Brigaud-Robert predicted that the coronavirus could bring about an overdue shake-up of the festival and market circuit.
"The cancellation of markets around the world brings up the question of how useful they really are," he said referring to MIPTV, Filmart and other markets, which have been forced to cancel or delay due to coronavirus.
"In the past, we may have questioned whether we really needed to go, but now we're suddenly being forced to test the absence of some of these markets in real-life. I don't know the answer yet, maybe we'll discover they're essential, or maybe we'll find out that some markets were redundant.
"Business is more easily carried out face to face, that's how you build relationships and trust, especially in a business in which what you exchange is as volatile as movies, but that said maybe just as the fall in pollution was a side consequence of coronavirus for China, maybe there will be side consequences for the film business too."
One US industry source who regularly attends the global markets said while face-to-face meetings were an essential part of how the industry interacts, the validity of certain events needed to be scrutinised. "MIPTV has been sinking into the sea for the last 10 years," the source said.