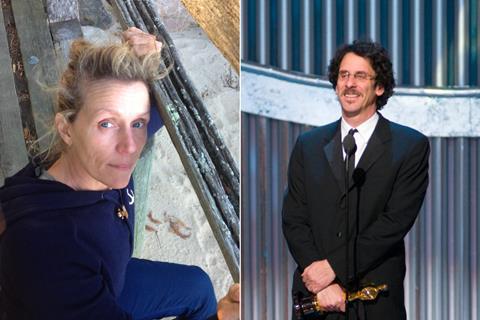 US duo Frances McDormand and Joel Coen will be 'masters' for the second edition of Ponta Lopud Film Festival, on the island of Lopud near Dubrovnik, Croatia.
McDormand and Coen will give invite-only masterclasses to directors, actors and cinematographers from Southeast Europe, in the festival from June 22 to 27.
Ponta Lopud was started last year by Miro Purivatra, founder and long-time director of Sarajevo Film Festival; and Tilda Grossel Bogdanovic.
The festival will also host lectures from Juho Kuosmanen, Finnish director of Compartment No. 6; Peter Spears, US producer of titles including Nomadland and Call Me By Your Name; and US talent agent Brian Swardstrom.
The festival has selected six emerging directors, and nine actors from the region as participants. Among them are filmmakers Antoneta Alamat Kusijanovic from Croatia, who won the Camera d'Or for best first feature at Cannes 2021 for Murina; and Tamara Kotevska from North Macedonia, whose 2019 documentary Honeyland was nominated for two Oscars.
The nine actors include Slovenia's Timon Sturbej, named a European Film Promotion Shooting Star in Berlin this year.
"The masterclasses will bring together young film professionals from six different countries in the SEE region and give them a golden opportunity to learn from the best in the industry and make new professional friendships," said Purivatra.
The festival will also play outdoor film screenings open to public ticketholders at venues including the Franciscan Monastery of Our Lady of the Cave on the island. Titles will play from the masters and lecturers such as Fargo and Nomadland; while composer Antonio Sanchez will perform a live version of his Bafta-nominated score for Oscar winner Birdman.
Sanchez will also attend as one of six guest moderators, alongside directors Pawel Pawlikowski, Michel Franco, Lili Horvat, Danis Tanovic and Ognjen Glavonic.
Ponta Lopud 2022 participants
Directors
Antoneta Alamat Kusijanovic
Una Gunjak
Tamara Kotevska
Maja Milos
Dusan Kasalica
Katarina Morano
Actors
Goran Bogdan
Judita Frankovic Brdar
Dado Cosic
Anja Matkovic
Jovana Stojiljkovic
Pavle Cemerikic
Amila Terzimehic
Sara Klimoska
Timon Sturbej