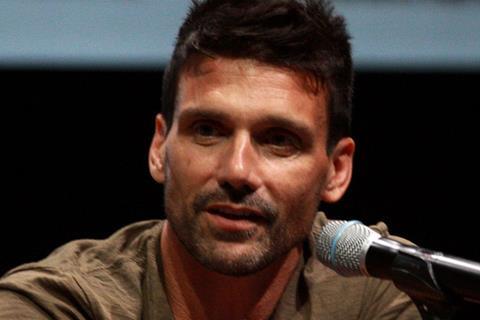 Frank Grillo werewolf action horror Year 2 has been a hot EFM seller for The Solution Entertainment Group with key territories closing ahead of a scheduled production start in May in Puerto Rico.
Grillo, the star of The Purge and Captain America franchises who has become one of the most in-demand actors in the market, plays scientist Wesley Marshall racing against time one year after a Supermoon triggered a latent gene in humans that turned people into werewolves when they entered moonlight.
The event led to close to one billion deaths. Now the Supermoon has returned and Marshall must find a cure. When his sister-in-law and niece face a wolf onslaught at their heavily fortified house, he must decide whether to save the world or save his family.
The Solution partner and head of international sales Lisa Wilson and her team have licensed rights to Wild Bunch for German-speaking Europe, Nordisk for Scandinavia, Notorious for Italy, California Filmes for Latin America, Eagle Films for Middle East, and VVS in Canada.
Deals have also closed with Key 2 for Spain, VVS in Canada, Vertical for Eastern Europe, Nos for Portugal, Tanweer for Greece, Cyprus and India, and Sena for Iceland. Further deals are pending in other territories and The Solution Entertainment Group also represents US rights.
Steven C. Miller (Escape Plan 2, Line Of Duty) directed Year 2 from a screenplay by Matthew Kennedy (Inheritance). Design and build for the werewolves is being overseen by Amalgamated Dynamics' Alec Gillis, who was part of the teams that earned Oscar nominations for Starship Troopers and Alien3. Pre-production and creature build has commenced.
Solution partners Myles Nestel (Line Of Duty, Honest Thief, Blacklight) and Craig Chapman (Line Of Duty, Honest Thief) are producing the film through Solution's in-house production division. Wilson serves as an executive producer alongside Jimmy Cummings and Jim Cardwell.
Grillo is represented by CAA, Management 360 and attorneys Paul Hastings; and Miller by UTA, Aperture Entertainment and attorneys Alexander, Lawrence, Frumes & Labowitz, LLP
The Solution's recent sales slate includes Blacklight and Honest Thief starring Liam Neeson, Line Of Duty with Aaron Eckhart; and Killerman, starring Liam Hemsworth.