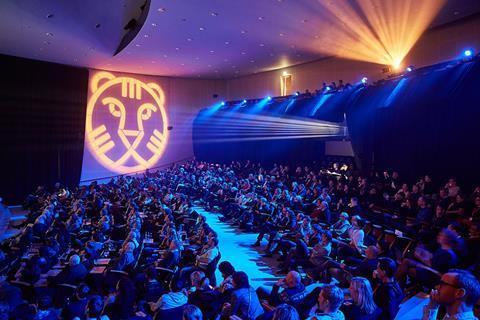 There may be fewer than usual Hubert Bals Fund titles in this edition's IFFR programme (seven in all, down from 14 in 2017) but HBF is now in a far more stable situation than it has been for many years.
That was the message from Head of IFFR Pro Marit van den Elshout and IFFR Pro Fund Manager Fay Breeman in a year in which the HBF films, including I Am Not A Witch and A Man Of Integrity, have again been feted at many major festivals.
HBF supports filmmakers from Africa, Asia, Latin America, the Middle East and parts of Eastern Europe. It was founded in 1988 and has long been regarded a core part of IFFR activities. However, in the long period in which HBF was dependent on the Ministry Of Foreign Affairs for financial backing, its financial situation was often precarious.
Now, it works with a number of different partners, among them the Netherlands Film Fund (on the NFF+HBF Co-production Scheme) and the Creative Europe - MEDIA programme (on HBF+Europe: Minority Co-production Support.) It is also supported by Hivos, the Dioraphte Foundation, Lions Club L'Esprit du Temps and IFFR's Tiger Film Mecenaat (which solicits donations from private sources.)
"We've spread our risks now," van den Elshout says of the current strategy.
One current aim is to provide more opportunities for female filmmakers in the regions HBF is active in. There will be brainstorming about how this can be best achieved during the festival.
Van den Elshout and Breeman confirmed that HBF+Europe will no longer be supporting distribution. Originally, the scheme offered 4 production awards of 55,000 Euros for minority coproduction and two of 30,000 Euros for distribution. Now, it will offer 5 awards of 52,000 Euros for minority coproduction.
"We discussed it with them (Creative Europe) last year. The criteria for the distribution grants were very detailed and strict. It was difficult for rights holders of the films to live up to the criteria," Van den Elshout explained the change.
To be eligible for distribution grants, films had to be European co-productions that were being released in at least three territories (including one inside and one outside Europe.)
HBF is also refining its own distribution strategy. The festival sees itself as the 'custodian' of the Benelux distribution rights but is looking to work more closely with Dutch distributors in releasing the films - and wants to secure itself a recoupment position so that some of the money made through the films' releases will come back to HBF.
"We are working towards a scheme where we have a place in recoupment without having rights. We don't want to get in the way of the sales agent selling the film to the distributor but the distributor should be aware of the film being supported by the Hubert Bals Fund," van den Elshout explained.
Four titles backed by the Fund (The Bed, The Seen And Unseen, Hard Paint and The Omission) will be screening in the Berlinale next month rather than in Rotterdam this week. The Fund heads say that this is not a problem and that it is up to the producers to decide where to take their titles. Any HBF-funded film that screens in Berlin this year won't screen in Rotterdam next year but may still have the chance of VOD distribution in Benelux through the festival's new platform, IFFR Unleashed.
Several of the current HBF titles already have Dutch distribution. For example, I Am Not A Witch (which is sold by Kinology) will be released by September Films while A Man Of No Integrity, sold by the Match Factory, is being released in the Benelux by Cineart.