EXCLUSIVE: Company also set to unveil Through The Air starring Reda Kateb, Ludivine Sagnier, Tchéky Karyo and Johan Heldenbergh.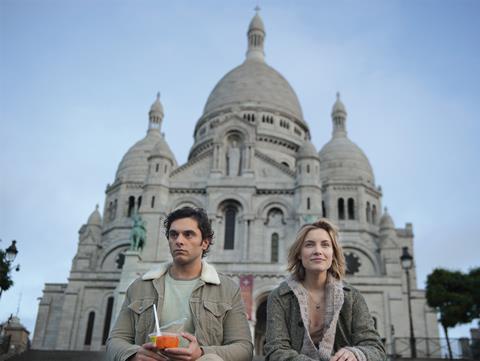 Gaumont is launching sales on high concept comedy Coming In[pictured] about a gay man who wakes up in bed with a sexy blonde Swede on the eve of his wedding to his long-term partner.
Starring Pio Marmai and Franck Gastambide, the Paris-set picture is the second film for directorial duo Noémie Saglio and Maxime Govare after comedy Les Voies Impenetrables about a group of nuns trying to save their convent from bankruptcy.
Deputy head of sales Yohann Comte describes the picture as a Working Title-style comedy with a twist revolving around the idea that you do not chose who you are or whom you fall in love with.
Shot in Paris last autumn it will be ready for delivery in the second half of 2014.
Gaumont will also unveil Fred Grivois' thriller Through The Air (La Résistance de L'Air), about a champion rifle marksman, who is coerced into becoming a hit-man.
The picture is based on a screenplay by The Prophet and Rust and Bone writer Thomas Bidegain who also came up with the original idea.
The cast features Reda Kateb, Ludivine Sagnier, Tchéky Karyo and The Broken Circle Breakdown lead Johan Heldenbergh.
Me, Myself and Mum cinematographer Glynn Speeckaert is also attached to the production which is currently shooting.
It is lead produced by Mourad Belkeddar and Nicolas Lhermitte's Paris and Los Angeles-based Iconoclast Films, which recently co-produced Spring Breakers, and Gaumont.
Other upcoming productions on Gaumont's slate include actress Melanie Laurent's second feature as a director, Breathe (Respire), about a fragile teenager who takes revenge when she is dumped as a friend by the most popular girl in the class. The drama due to be completed this summer stars Isabelle Carré, Lou de Laâge and Joséphine Japy.
The company will also kick off sales on Regis Wargnier's The Gate based on the true story of a French ethnologist who captured and tortured by the Khmer Rouge in 1971.