Universal Pictures' Girls Trip crossed $100m at the North American box office on $100.1m, yesterday.
Malcolm D Lee's comedy is Universal Pictures' sixth film to surpass $100m in 2017. It is the highest-grossing live-action comedy, by far, this year at the North American box office.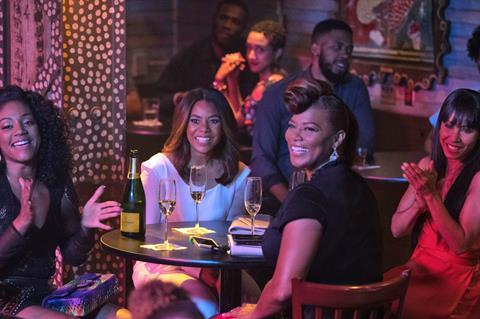 Including the $9.8m generated internationally, Girls Trip has grossed $109.9m worldwide.

Girls Trip grossed $31.2m at the North American box office over its opening weekend, surpassing Bridesmaids' $26.2m opening in 2011 and Bad Moms' $23.8m debut in 2016.
Its opening weekend also makes it the highest-grossing opening for a live-action comedy this year, and it dropped only 36% in its second weekend.
Will Packer, producer of the Ride Along and Think Like A Man franchises, produced the comedy that received an A+ CinemaScore and is Certified Fresh with 88% on Rotten Tomatoes.
The female-driven comedy marks Lee's best opening and highest-grossing film of his career at the North American box office, surpassing The Best Man Holiday's $70.5m gross in 2013.
Regina Hall, Tiffany Haddish, Jada Pinkett Smith and Queen Latifah star as four lifelong friends who travel to New Orleans for the annual Essence Festival.
James Lopez, head of motion pictures for Will Packer Productions, and Preston Holmes served as executive producers.
Australia and Romania will be the next markets to release on August 31, with additional markets rolling out through the end of the year.