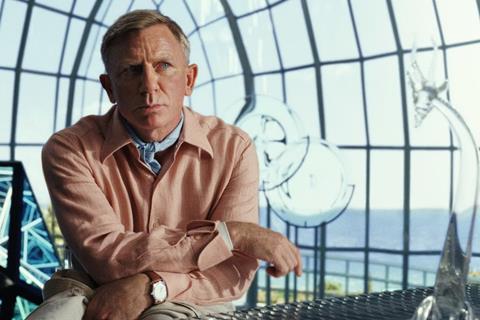 All three major UK cinema chains will play a Netflix title for the first time next month, when Rian Johnson's Glass Onion: A Knives Out Mystery premieres exclusively in cinemas on November 23.
Odeon, Cineworld and Vue will all play the film in a seven-day theatrical window, from November 23-29. The film will then leave cinemas for three weeks before launching on Netflix on December 23.
It will also play in around 600 cinemas in the US through AMC Theatres, Regal and Cinemark; and at AMC-owned Odeon Cinema Group locations in Ireland, Italy, Germany and Spain.
For Vue, discussions are ongoing in Italy and Germany to show the film at their The Space and Cinemaxx franchises respectively.
The film will also play in smaller chains, including Everyman Cinemas – in 11 sites – and Cineworld-owned Picturehouse venues; plus independent cinemas.
Plans for a Glass Onion theatrical rollout were first disclosed by Netflix last week.
The agreement is the first of its kind for the major exhibitors, and marks a significant change for the streaming giant's release model.
The exact number of cinemas the film will play in, and which other Netflix films the major chains will play, are still to be confirmed.
"This is an exciting moment in our relationship with streaming platforms and for the wider ecosystem as a whole," said Tim Richards, founder and CEO of Vue International. "Studios have recognised the value of the theatrical window and now we're seeing Netflix embracing the big-screen theatrical release too. The Knives Out franchise has a huge following and it's fantastic that fans of the first movie will be able to experience Glass Onion on our big screens – where all great films deserve to be seen."
"We believe that both theatrical exhibitors and streamers can continue to co-exist successfully," said Adam Aron, chairman and CEO of AMC. "Beyond that, though, it has been our desire that we find a way to crack the code and synergistically work together. By doing so, theatres will make more money by having more titles to show, and thanks to the larger cultural resonance those movies can gain from a theatrical release, they will wind up playing to a wider audience when they also are viewed on streaming platforms."
"This agreement that we have reached with Netflix for Glass Onion: A Knives Out Mystery is acceptable to AMC as it sufficiently respects the sanctity of our current theatrical window policy."
Aron also said the company "will endeavor to continue working with Netflix on future compelling titles that excite and engage theatrical audiences".
Box office potential
Theatrically-released Netflix titles have previously played only in smaller chains and independent venues, typically as part of awards-qualifying runs.
Altitude is operating as the UK service distributor for seven Netflix films across the coming awards season, including Glass Onion.
Further Netflix films it will book into cinemas include German Oscar entry All Quiet On The Western Front, in limited screenings from this Friday, October 14; and Alejandro Gonzalez Inarritu's Bardo, from November 18.
The Knives Out franchise offers potential for strong box office returns for Netflix, as well as a potential boon for cinemas. The first film opened to £2.9m in the UK and Ireland in November 2019 through Lionsgate, finishing with a £13.3m total.
Glass Onion debuted as a Special Presentation at Toronto International Film Festival last month, receiving the second runner-up spot in the prestigious People's Choice award. Starring Daniel Craig as Southern detective Benoit Blanc, the film sees Blanc travel to Greece for his latest case. Ethan Hawke, Edward Norton, Kate Hudson, Dave Bautista, Janelle Monae and Kathryn Hahn round out the cast.