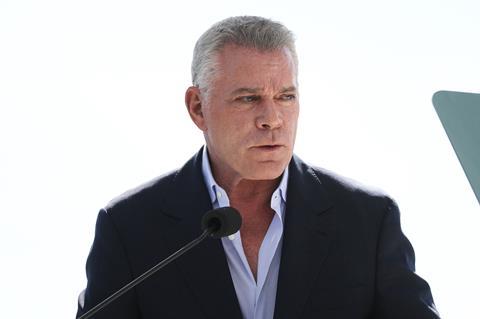 UPDATED: Ray Liotta, best known for playing Henry Hill in Martin Scorsese's Goodfellas, has died aged 67.
The actor died in his sleep in the Dominican Republic, where he was shooting John Barr's thriller Dangerous Waters for Capstone Global, his representatives confirmed to the US trade press.
Liotta recently completed work on Universal thriller Cocaine Bear, according to reports, and on Apple TV+ series Black Bird, to be released by the streamer next month. His upcoming projects, according to IMDB, included The Substance, for Working Title/Universal.
His other film roles included Theatre Of Dreams, Cop Land, Narc and The Many Saints Of Newark.
He is survived by daughter Karsen and fiancé Jacy Nittolo.
Tributes
Industry figures have been paying tribute to Liotta.
The actor's Goodfellas co-star Lorrain Bracco wrote on Twitter: "I am utterly shattered to hear this terrible news about my Ray. I can be anywhere in the world and people will come up and tell me their favourite movie is Goodfellas. Then they always ask what was the best part of making that movie. My response has always been the same…Ray Liotta."
Robert De Niro, who starred with Liotta in Goodfellas and Cop Land, released a statement saying, "I was very saddened to learn of Ray's passing. He is way too young to have left us."
A statement from Goodfellas director Scorsese said: "I'm absolutely shocked and devastated by the sudden, unexpected death of Ray Liotta. He was so uniquely gifted, so adventurous, so courageous as an actor. Playing Henry Hill in Goodfellas was a tall order, because the character had so many different facets, so many complicated layers, and Ray was in almost every scene of a long, tough shoot. He absolutely amazed me, and I'll always be proud of the work we did together on that picture. My heart goes out to his loved ones, and it aches for his loss, way too early."
Alessandro Nivola, who acted opposite Liotta in last year's The Many Saints of Newark, said on Twitter: "RIP Ray Liotta. I feel so lucky to have squared off against this legend in one of his final roles. The scenes we did together were among the all time highlights of my acting career. He was dangerous, unpredictable, hilarious, and generous with his praise for other actors.Too soon."
James Mangold, who directed Liotta in Cop Land, wrote: "Shocked and saddened to hear of Ray Liotta's passing. Beyond the tough guy exterior and the tightly wound emotions of his signature characters, he was a sweet, playful and passionate collaborator and brilliant actor. RIP."
The Edinburgh Film Festival tweeted: "We're very sad to hear the news of Ray Liotta's passing. A great actor, Ray starred in Sticky Notes, which premiered at the EIFF in 2016, in a role almost completely unrecognisable from the gangster/mobster roles he was so famously associated with. RIP Ray."
A tweet from the British Film Institute said: "We are deeply saddened to hear of the passing of actor Ray Liotta whose career spanned five decades, including roles in Goodfellas, Hannibal and Marriage Story."